Consider taking a day off of the slopes when in the Park City (UT) area to learn some the history of Main Street while tasting the fare of several restaurants. Local resident Shirin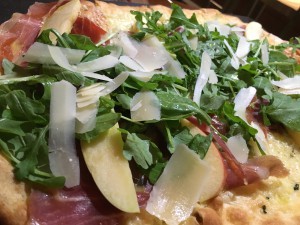 Spangenberg hosts Park City Food Tours where you'll hear how the town has gone from mining to dining — of course, sampling some goodies — while walking down the picturesque historic Main Street. If you're tired from your day's activities, there is a free trolley to take you back up the street…..
Vinto was our fourth stop….
Luckily Vinto was our last stop as we were getting full. There we had a crisp  flatbread fontina pizza topped with thinly sliced prosciutto, sliced apple, fresh arugula and shaved parmesan. My favorite item on the tour. Here we  ended with a bowl of their chocolate-cherry gelato.
– bonnie
BonnieBOTB
Follow @BonnieBOTB

Vinto
Park City,
900 Lower Main St,
Park City, UT 84060
(435) 615-9990