If you're looking for an unusual place for brunch in the city, I suggest heading to Alphabet City for the bottomless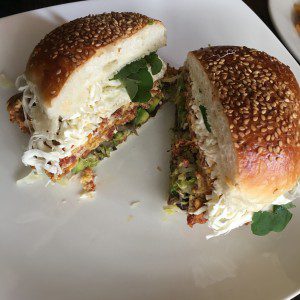 brunch at Villa Cemita. There's a $29 unlimited cocktails (mimosa, white or red sangria or margaritas) for 1.5 hours or $39 for 2 hours including food.
I was invited as their guest and sampled all their cocktails, preferring the blood orange mimosa, and some of the Mexican cuisine with a nod to the Puebla area where the chef/owner Alejandra Aco is from.  This is a colorful modern restaurants with paintings by graffiti artist Flore (Christopher Florentino) reflecting the culture and history of the East Village,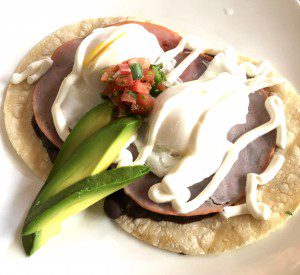 the family, the restaurant and the owners' background.
We started with both a nopal cactus salad (ensalada de nopal) with avocado, tomato, lettuce, jalapeño and queso fresco, and their namesake entree — a jumbo layered brunch sandwich with piles of avocado, black beans, scrambled eggs, papalo (an herb) and queso Oaxaca on a cemita roll. I'd recommend both, but especially the unusual sandwich.
We also sampled three breakfast entrees. Their huevos rancheros, a light version of the Mexican classic with two eggs (I had them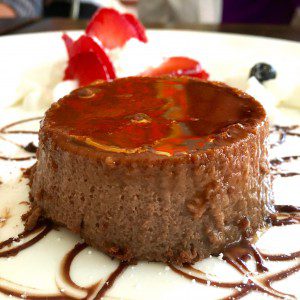 poached) on flour tortillas, with black beans, ham, crema and queso fresco topped with sliced avocado and fresh pico de gallo. The chicken enchiladas came as a trio of corn tortillas stuffed with chicken, romaine lettuce, cheese, corn, pickled onions, avocado and queso fresco topped with a green (tomatillo) sauce and accompanied by a side of rice. The Mexican frittata with tomato, poblano peppers, ham & queso Oaxaca was a bit too thin for my liking.
I would — though — recommend the baked cinnamon-spiked abuelita custard (a chocolate flan) over the stubby churros with a Nutella-cajeta "chocolate" for dipping.
– bonnie
BonnieBOTB
Follow @BonnieBOTB
Villa Cemita
Alphabet City
50 Avenue A (between 3rd and 4th St)
New York, NY
646-964-4528