Escaping the chaos of touristy Khao San Road, I ventured to Bangkok's predominantly-Thai residential neighborhood, Ratchathewi, to stay with an expat friend living in the city.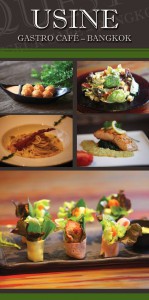 It was there in the minimalist and modern Usine Gastro Cafe that I enjoyed one of my favorite meals in all of Thailand, coincidentally it was also my last meal before leaving Asia.
We shared three dishes, all incorporating traditional Thai ingredients. The soft shell crab salad for 250 baht ($7.83) was a delectable way to start the meal. The crispy crab sat upon a mix of fresh cilantro, roasted peanuts, carrots, diced chillies and onions. We shared two main courses, Larb Woon Sen and Plaa Nua. The latter for 110 baht ($3.44) was a tasty sautéed beef flavored with lemongrass and mint and accompanied by eggplant, onion, garlic and chillies. The Larb (80 baht/ $2.50), a minced pork and vermicelli noodle dish with chili flakes, basil and onion was the spiciest, but we still managed to scrape the plate clean.
After my taste buds recovered from the heat, I packed my bags and left for the airport, promising and reassuring myself it would not be my last time in Thailand.
Usine Gastro Cafe
2 Phayathai Rd
Bangkok, Thailand 10400
+66 2 612 1442