After introducing visiting friends to the new Whitney museum in the Meatpacking district, we dined
at Untitled, the new Danny Mayer, Renzo Piano designed restaurant.
While perusing the edgy veggie-forward list of offerings, we sat in the comfy Eero Saarinen's red upholstered chairs while looking out at the High Line, the Hudson River and the people heading to the museum.
The sommelier was more than helpful in finding us a reasonable priced white wine. We asked for one $50 or less, and he suggested the best value on the list. The Austrian Gemischter Satz '13 ($34), a bone-dry blend of several different varieties (Reisling, Tramminer and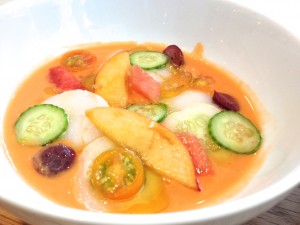 Veltliner) with a zesty citrus quality making it perfect for a hot summer day.
To start we were served what I thought was the amuse, fresh sweet peas in a delicate camomile cream. I learned later the chef had sent it to us.
The toast topped with lobster lemon preserves and shoshito peppers ($14) should not be missed. Neither should the crisp flat cornbread topped with diced bacon and okra ($13) nor the chickpea hummus with tomatoes, a tomato emulsion and crisp bread strips.
The refreshing watermelon gazpacho ($15) came with pounded-thin sea scallops, two varieties of thinly sliced cucumbers (Persian and lemon), various tomatoes, watermelon, nectarines and gooseberries.  Also unusually flavorful are the braised beets and cherry sauce, with lemon verbena yogurt, candied pink peppercorns, pickled cherries and currants.($12).
The only disappointment was the spareribs ($29). Although they were tender and the abundance of meat did almost fall off the bone, they neither had smoky flavor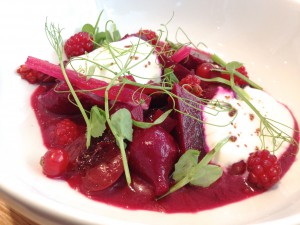 nor were they nearly as special as everything else.
We had planned to skip dessert until Chef Michael Anthony came out of the kitchen to see how we enjoyed our meal. He insisted we try the warm triple chocolate chunk cookie that came with a shot glass full of milk for each of us. We didn't leave a crumb.
– bonnie
Untitled at the Whitney
Meatpacking District
99 Gansevoort St,
New York, NY 10014