Union League Cafe is one of my favorite New Haven places to dine. (I also loved Robert Henry's, its previous namesake.)  The food is consistently fabulous, service professional and setting elegant.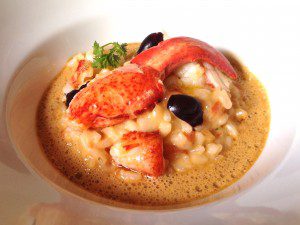 While looking at the menu, we nibbled their house made (addicting) vegetable chips and sipped on a glass of Chenin Blanc, Saumur 2010 Domaine Gullaman ($9.75 per glass)
The rich chilled local corn soup with chorizo and pequillo pepper oil drizzled over the top and crunchy pieces of chorizo was deliciously filling ($7.50).
Knowing the chef always has it's perks!  Jean-Pierre had come to the table to say hi, and then sent out the most delicious carnaroli risotto made using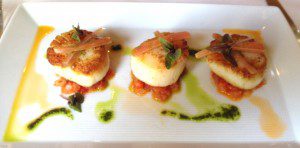 lobster stock, and finished tomato concasse cooked with a rosemary sprig. The poached lobster was incredibly moist and tender. The risotto got additional flavor from the niçoise olives. A truly amazing dish! Not to be missed if on the menu.
Also delicious are the three seared New England sea scallops a top tomato concassee and drizzled with a Swiss chard pesto ($12.50)
A simple salad of mixed greens with an herb vinaigrette ($7) completed our entree.
Of course we were served incredible dark-chocolate coated truffles and jellies with our espresso. As wonderful as always!
Union League Cafe
1032 Chapel St
New Haven, CT 06510
(203) 562-4299