Tupelo's chef-owner Matt Harris had worked in — and opened — restaurants around the country before he settled in Park City to open this — his first — one. He worked with Jean George at Spice both in Atlanta and NYC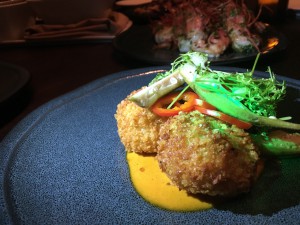 , With Nancy Oakes at Boulevard in San Francisco and with many other chefs. Matt describes his new Main Street establishment as "a globally inspired fine dining restaurant that honors artisanal ingredients and food terroir."  I got to sample his cuisine just before the official opening, the day after the menu had rolled out.
For beverages they offer Mexican sugar cane bottled sodas in addition to a full bar. I has a glass of the Italian Nero d'Avola Stemmari, 2012 ($10), still being a fan since my trip to Sicily.
We tried many of the offered appetizers including a collard green Caesar ($10) with fried Parmesan and polenta croutons. Interesting, but nothing exceptional. Don't miss the Maine crab fritters topped with pickled okra and an Aleppo chile ($14) swimming in a butter-housemade hot sauce mixture so good I wiped up every last drop! Matt learned how to make it from a Korean fried; he purees fermented chilies with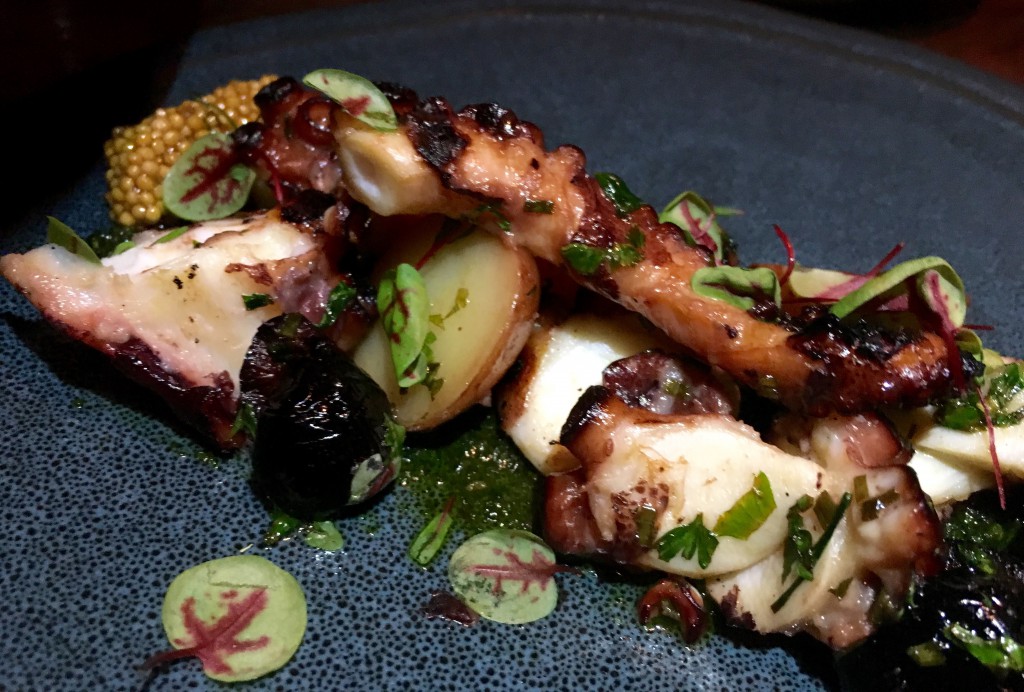 equal parts of European butter, then reduces it to make the sauce thick enough to spread. That piquant sauce made the dish, bringing out the flavor of the crab.
Also worth ordering is their char-grilled tender Spanish octopus ($15) with olives, confit potatoes, saba, mustard seeds and lemon drizzled over the top. There were five of us to split the one potato-ricotta raviolo ($12) filled with braised pork shoulder, Thai chilies and a runny farm fresh egg, so when the plate got to me, I didn't get enough to get a real taste; the others raved. (Note to self: next time in PC, be sure to try it!)
I did like the tasty Bear Lake lamb meatballs ($12) with Gold Creek cow's feta, mint almond pesto and brown-butter almonds with a dab of smoked chile jelly.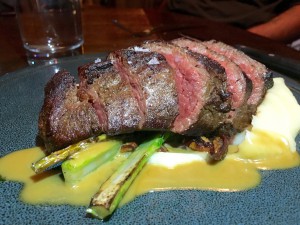 We had an appetizer portion ($18/24) of their plump garlicky Maine mussels in an herbed broth accompanied by a stack of herb-oil brushed toasted bread slices piled as high as the mollusks.
I could have stopped then, but there were growing boys with us who were still hungry. The housemade pappardelle ($28) came with braised rabbit and roasted mushrooms;  it was buttery and savory but plebeian as it screamed for some seasoning. The only disappointment.
The men at the table kept eating. The 8-ounce cooked to perfection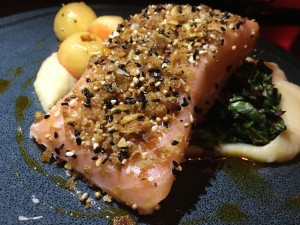 Wagyu sirloin ($32)  arrived over a parsnip puree with grilled broccoli rabe; the sous-vide Skuna Bay salmon was tender and moist ($34) atop a celery puree and braised greens. Both worth ordering
We also tried two sides that I'd recommend — the creamy farro ($8) with butternut squash topped with toasted almonds; and their unusual Southern-twist baked beans with mustard greens, pass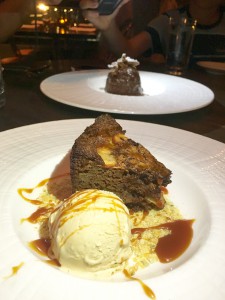 ion fruit and candied dates ($8).
Don't miss desserts. The warm whiskey apple cake came topped with maple-brown sugar ice cream and a cumin spiked caramel ($8), while the sticky toffee pudding contained pecans and gingersnaps ($8). Both tasty enough to finish.
– bonnie
BonnieBOTB
Follow @BonnieBOTB