Growing in popularity, the small nation of Cambodia has become a desirable stop for both bucket-list travelers visiting Angkor Wat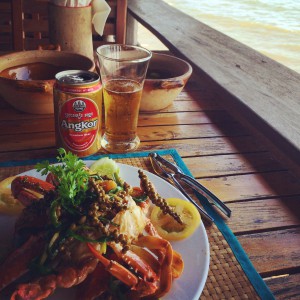 and backpackers searching for a beachside paradise to rival Thailand. This hidden gem is a surprising destination for some of the tastiest crab.
Reading about the must-eat crab in our guidebook, my travel companion and I ventured to Kep, small fishing village,a two hour drive from the coastal hub city Sihanoukville. The crab market there is a row of rustic clapboard eateries on stilts lining the water.
We wandered into Trei, one of the more charming huts with a shady table overlooking the water and a cool sea breeze. Their garlicky tender sautéed crab ($7) was finger-licking scrumptious, pairing perfectly with the mild heat from stalks of fresh green peppercorn. The latter came from Kampot, the neighboring town famous for their black, white, red and green pepper.
Trei
Kep Crab Market
Kep, Cambodia
+855 97 948 8580