The menu at Signature Cafe inside The Pershing Square Signature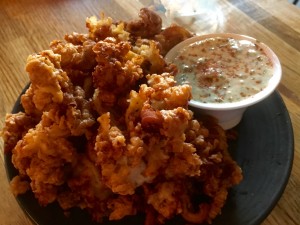 Center where we were seeing Hamish Linklater's new play "The Whirligig," was more limited than it had been when I reviewed it. We ended up next door at Treehaus for a pre-theatre bite. (Click here for review on Theater Pizzazz)
Their menu was also limited but offered much more than a salad, sandwich or soup. We started with a glass of their happy hour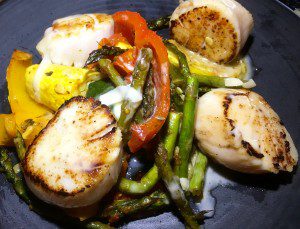 ($5) rose  (Hecht and Bannier) and their fried clam strips with their housemade "haus" tartar sauce ($9); we never received the menu offered cole slaw and the strips were a bit overcooked.
The scallops with roasted veggies were fine, but what was really good is their perfectly cooked charred Portuguese octopus ($17) with crispy fingerling potatoes. That's what I would suggest if you like this cephalopod.
A good location for grabbing a bite before heading to any of the theatres on far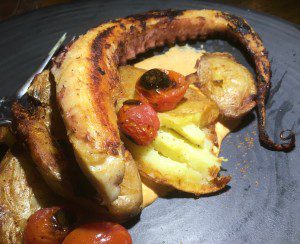 west 42.
– bonnie
Treehaus
Hell's Kitchen
470 W 42nd St
New York, NY 10036
(212) 695-7636

4
Save