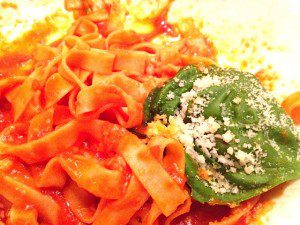 I'm always on the hunt for pre-theatre restaurants to share, which is how I found Trattoria Dopo Teatro.
We ordered the simple spaghetti pomodoro with San Marzano tomatoes and olive oil ($14) but asked for it with their home made fettuccine (additional $3.50).
And then agreed to share the baked tender seabass (branzini) al forno ($29) with white wine and roasted potato (Yes, I meant singular as the dish only had 1 potato – two halves.) We were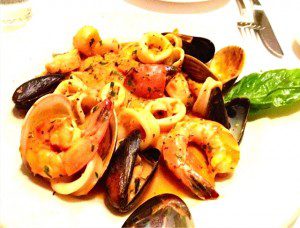 yakking so much we hadn't noticed — until it was served — that the menu said "with seafood." That  included shrimp, mussels, clams, scallops and squid – the latter two almost inedible as they were way overcooked. The fish was perfectly cooked, we had wished we had asked for it sans the seafood.
The food is decent, nothing exceptional, while service is very professional and attentive. Best of all it's in the heart of theatre district.Trattoria Dopo Teatro offers a pre-theatre 4-course menu for $29.50.
Trattoria Dopo Teatro
125 W 44th St
New York, NY 10036
(212) 869-2849