Trattoria Cinque, an Italian restaurant in Tribeca, offers five (cinque) of everything. That means dinner selection is simplified as you choose between five pizzas, five antipasti, five primi pastas… you get the idea.  This menu, by the way, changes five times a year, allowing chef Mirco Grassini to offer seasonal classics.
The restaurant was quite noisy, but to be fair there was a rowdy after-holiday party crowd.  We started with a bottle of the full-bodied Torcicoda Primitivo '10 from Antinori Puglia ($55). The '08 of this wine ranked #61 on Wine Spectator's top 100 Wines of 2011 & 90 Points.
Before we had time to order, Alessandro — the general manager — mentioned he was sending some goodies to the table, as we were their guests.  We began with their Caesar salad ($12) with romaine heart leaves, slices of Parmigiano Reggiano, huge crunchy croutons and housemade dressing.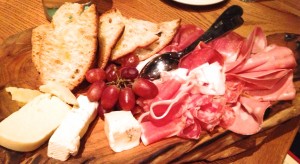 He followed that with two delectable and unusual white pizzas: Lardo di Colonatto (pork cheek, colonatto lard, fresh rosemary and mozzarella, $18) and Gorgonzola e Pere (Gorgonzola cheese, thin pear slices and white truffle oil, $20), plus a hearty portion of Formaggi e Salumi (an assortment of Italian cheeses, cured meats, fruit and bread artfully presented in a large wooden oval bowl, $28).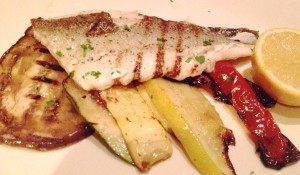 Those delicacies could have been enough for a meal,  but wanting to sample more of the menu we continued ordering.
We split the tender Insalata di Polpo (grilled octopus, white beans, olives, tomatoes and arugula, $17) and two pastas: the evenings special of a layered, light eggplant parmigiana plus their Bucatini Cacio e Pepe (the simple preparation of al dente bucatini tossed cacio di roma cheese and freshly ground black pepper; $15) and their grilled tender Mediterranean sea bass (branzino) with grilled vegetables, something I highly recommend.
We would have stopped there, but were served their moist, luscious tiramisu ($9) with savoiardi (Italian Ladyfingers) mascarpone and espresso and vanilla custard stuffed large profiteroles drizzled with chocolate sauce, $10.
I'd give this restaurant a high five!


Trattoria Cinque
363 Greenwich Street (at Franklin Street)
New York, NY 10013
212.965.0555
www.tc5nyc.com