After seeing the very unusual, somewhat absurd musical iow@ at Playwrights Horizon, we headed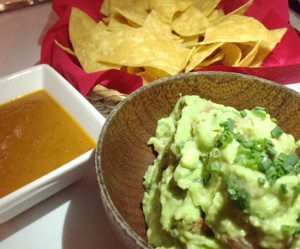 uptown for a bite to eat at Toloache, a Mexican restaurant that a friend raved about. To start we selected their Rojo, purportedly spicy guacamole option ($14). This blend of huge chunks of avocado red onion, tomato, chipotle and queso fresco came served with warm chips and a thin chipotle dipping sauce. Enjoyable, although the spiciness was in the accompanying sauce, not the guac.
We asked for some more of the dipping sauce for our next dishes and were told they didn't give away sauces. And oddly — we thought — sauce didn't accompany our other foods, although they needed it. The shrimp quesadilla ($13) is a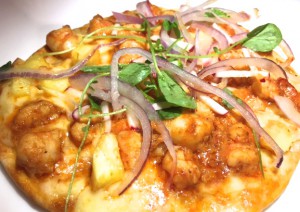 thick tortilla topped with some chile de arbol salsa and pineapple chunks, sprinkled with sliced red onions and Chihuahua cheese. Although we enjoyed the flavor, the shrimp pieces were so tiny and sparse, I thought they forgot to add the seafood.
Tasty are the two suckling pig tacos on fresh thick corn tortillas topped with cactus salad and salsa verde, sprinkled with queso freso and topped with chicharron – a piece of fried pork crackling, and the Pescado ($13), thick chunks of fluke topped with spicy jicama slaw and guacamole. I'd recommend either.
What was wonderful and really worth the visit are their margies.Don't miss the Oro Blanco ($15) with Herradura Reposado tequila, Cointreau and fresh lime juice with of course a salted rim.
A good place to stop for a bite before theatre.
– bonnie
Toloache
Midtown West
251 W 50th Street
New York, NY 10019
(212) 581-1818