For years I had heard from a friend who lives in the Union Square area, about Tocqueville with chef, Marco Moreira, who owns the restaurant with his wife, Jo-Ann Makovitzky.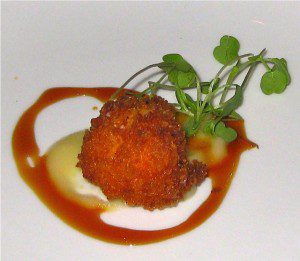 I finally dined there recently and have to ask, "Why, oh why, doesn't Tocqueville have a Michelin Star?"
Yes, it's that good.
And with a prix fixe lunch $29.07 with wine pairing of three 1/2 glasses $44.07, it's a New York bargain.
While we perused the menu, our attentive waiter served use an array of breads — focaccia with olives and rosemary, brioche and/or sour dough — with housemade butter with sea salt and an incredible amuse bouche of a crispy s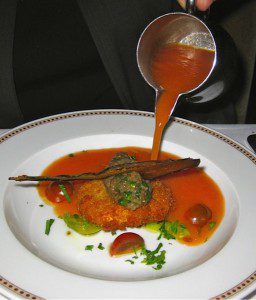 weet potato croquette with a gala apple puree and cider gastrique (caramelized sugar, deglazed with cider vinegar).
Our palates were tickled and ready for the warm fresh greenmarket tomato soup with cherry tomatoes and a fried crisp slice of eggplant atop a house made crispy ricotta — the latter I found a tad bland, served  with  2010 Sauvignon de Touraine, Francois Cartier, Loire, France.
Our other appetizer included fresh green asparagus and artichokes with an kalamata olive remoulade, sliced radishes in a light citrus vinaigrette, served with a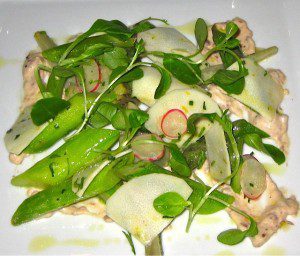 2009 Triennes Sainte Fleur Viognier, Provence France.
The kitchen cooked the seared hanger steak to perfection and served it with a rich, tender and hearty braised short rib a top sautéed spinach and a potato puree with roasted wild mushrooms all in red wine jus. That matched perfectly with the 2007 Toscana IGT Tenuta S. Giovanne, Vildi Santi Tuscany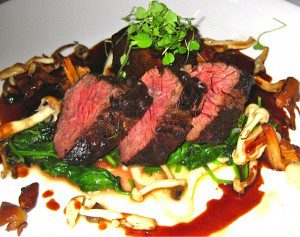 Italy.
Also delicious was the roasted baby pumpkin risotto with toasted pumpkin seeds, chanterelle mushrooms, loads of parmesan cheese and a rosemary brown butter. This rich vegetarian option was served with 2009 Cotes du Rhone Domaine Charite Rhone France.
We were stuffed, but since the dessert came with the prix fix meal – how could we resist. The duo of  a mixed blueberry, blackberry, strawberry and raspberry sorbet with the taste of each and every berry apparent in each bite plus sheep's milk yogurt topped with a confit cumquat spiced with tellicherry peppercorns — served with 2007 Coteaux du Lyon, Deux Villes, Loire, France.
Our other dessert was bitter chocolate mille feuille with light espresso ice cream served with Blandy's 5 year Sercial Madeira, Portugal.
Amadou Ly, the talented pastry chef, stopped by the table and brought us a peach sorbet and reisling sabayon and send out some candies, too – with a lemon, liquorice, rice crispsy chocolate treat, white chocolate with passion fruit ganache and an irrestible dark chocolate coffee ganache.
A restaurant to be experienced!
– bonnie
Follow @BonnieBOTB

Tocqueville
1 E 15th St
New York, NY 10003
(212) 647-1515
tocquevillerestaurant.com