Nothing beats the flavor and aroma of sautéed onions and butter, especially in mashed potatoes.  Consider this a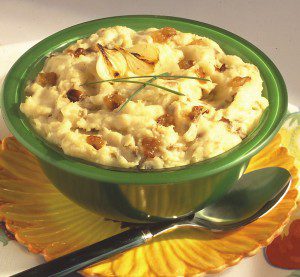 sumptuous side dish — developed in the Land O Lakes test kitchens  — for this year's Thanksgiving feast.
Toasted Onion Mashed Potatoes
5 medium (about 10 cups) potatoes, cut into eighths
2 t salt
4 T butter
3 cups coarsely chopped onions
½ c milk, warmed
¾ c sour cream
Place potatoes in 4 1/2-quart saucepan or Dutch oven.  Cover with cold water; add salt. Bring to a boil over high heat.  Reduce heat to medium; boil potatoes until fork tender, about 15 to 18 minutes.  Drain.
Meanwhile, melt 2 tablespoons butter in 10-inch nonstick skillet until sizzling; add onions. Cook over medium heat, stirring occasionally, until onions are brown, about 8 to 10 minutes.  Set aside.
Place cooked hot potatoes in large mixer bowl.  Mash slightly with fork.  Beat at medium speed, adding 2 tablespoons cold butter, 1 tablespoon at a time, until mixed, 30 to 60 seconds..  Continue beating, gradually adding browned onions, milk and sour cream until well mixed, about 1 to 2 minutes.  Season to taste with  salt and pepper to taste.  DO NOT OVERBEAT.  Keep warm until until the rest of your Thanksgiving feast is ready. Makes 12 servings.
Photo and recipe courtesy of Land O Lakes