I'd been hearing a lot about Tim Ho Wan, the dim sum restaurant on 4th Avenue in the East Village that's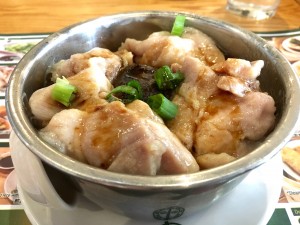 been called "the world's cheapest Michelin-starred restaurant." Tim Ho Wan is the first US location of the Hong Kong-based restaurant chain. One with legendary waits.
I decided to venture there at opening time (10 am) midweek and wait, while reading my next book group book, that is if the lines were reasonable. I was so lucky as there were no lines; I was seated immediately.
It took me a few minutes to realize I needed to mark my selections on the paper menu's check-off grid. I got some help in those selections looking at the color food photos on my placemat.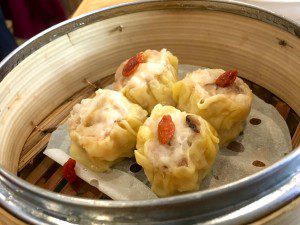 I started with a hearty portion of steamed rice with four large pieces of boneless chicken, topped with a shiitake mushroom ($4.75). A waiter poured over some house-made soy sauce. Next, in a steamer basket, I got four siu mai — steamed pork dumplings with shrimp ($4.50).
While I was enjoying these morsels, the couple to my left offered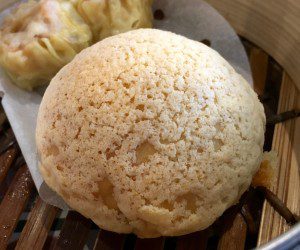 me one of their plump steamed shrimp dumplings ($4.50 Har Gow) with a more gelatinous, yet delicate, dough. I liked it even more than my siu mai!  Following suit, Allison — the woman to my right (a business school grad student at NYU) — offered me one of her pork buns, char siu bao. Instead of the classic steamed doughy versions, these crunchy buns come filled with rich pork barbecue and baked! (Three for $4.95). Don't miss.
She also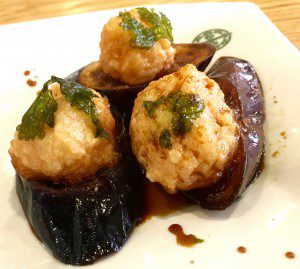 offered me one of her steamed rice rolls stuffed with minced beef  (three rolls for $5.25), the only dish not to my liking as it had too much gummy dough and not enough meat. Or, maybe I was just stuffed from all my fortuitous dishes!
My final dish was one of their greaseless deep-fried options: an eggplant slice topped with fried shrimp.
Delicious cheap eats for sure. Make a special trip to sample these dim sum — but be prepared to wait — unless you are lucky like I was.
– bonnie
BonnieBOTB
Follow @BonnieBOTB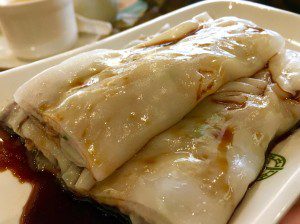 Tim Ho Wan
East Village
85 4th Avenue
New York, NY
212-228-2800
www.timhowanusa.com