Not too far from Pike Place Market in Seattle is Tilikum Place Cafe with the unusual breakfast offerings of Chef Ba Culbert.
I sampled one of the blackboard specials — a Dungeness Crabcake (with very little fillers) atop sliced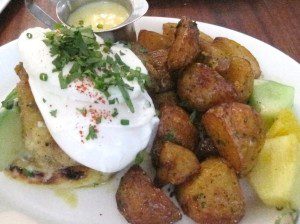 avocado on an English muffin, served with crispy well-seasoned roasted potatoes some fruit and an unusually delicious cilantro, lemongrass hollandaise sauce ($15). That's for sure a best bite.

One friend tried the sweet mustardy baked beans on grilled toast with a fried egg and cheddar ($12), another warm bread with both Nutella and homemade jam ($2); thick creamy Greek yogurt topped with walnuts and dried fruit compote ($6). We all shared crispy bacon ($4), some skippable homemade sausage ($4) needing a bit more seasoning and grilled asparagus with lemon and shaved pecorino ($6), which could have been cooked a tad more!
Be sure to call ahead and make a reservation for a weekend brunch.
Tilikum Place Cafe
(Belltown)
407 Cedar St
Seattle, WA 98121
206-282-4830
www.tilikumplacecafe.com