On the eve of Thanksgiving, I'm giving thanks for my new family — one that has grown exponentially since Eric married Casey Brogdon at a 4-day wedding weekend last month in Lisbon, New Hampshire at Bishop Farm. And thanks that the wedding was everything they wanted it to be.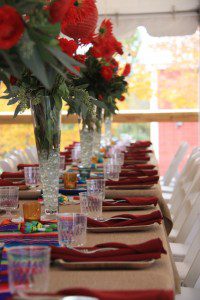 I was responsible for the rehearsal dinner and day-after brunch; Casey's mom and dad for everything else, with her dad handling the weekend food. First night, Casey's dad Bill served his famous Texas chili, to satiate the hungry slosh-ball players after their inaugural match…that's a game of kickball where the players hold a beer in one hand and must refill from a keg if they get to second base. Redolent of frat parties. Lots of fun.
With the help of friends and family, I brought in food in from Manhattan (Esse bagels), Brooklyn (Acme's lox and whitefish), Boston (Pedro's burrito fixin's) and Connecticut (Ashley's  coffee Oreo and vanilla ice creams and their rich hot fudge). My world-village cooked, shopped, schlepped carloads or even created floral arrangements.
To pull it off, I had lists. Lists of everything.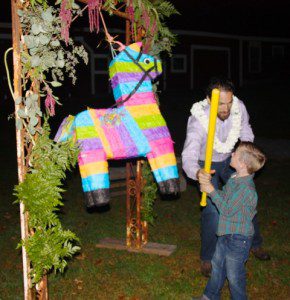 Trying to think of everything needed  to finish, hold, serve and eat or drink each item.
On Friday, friends helped me set the scene for the rehearsal dinner, replete with colorful serape table runners, mini-maracas, and a huge candy-filled piñata, hanging awaiting kids.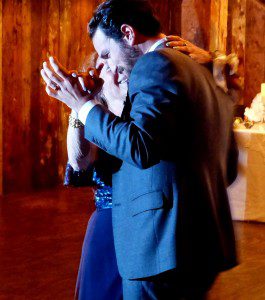 We served margaritas made only from tequila, Grand Marnier and the juice of fresh limes, offering a pitcher of simple syrup to self-sweeten. The eats included freshly made tortilla chips, guacamole and a burrito bar with desserts of make-your-own hot fudge sundaes and just-baked warm chocolate chip cookies (from homemade frozen dough).
Sunday, I put out a NY-style brunch, replete with fresh bagels, sliced lox and a whole white fish, plus a tray of cheeses and baskets of baked goods including the Whoopie Pies and San Francisco cupcakes from the wedding day. I put out a basket of whole fruit and offered containers for travelers who needed to grab and go!
The wedding weekend went off without a real hitch…as I said it was exactly what Casey and Eric wanted which made it perfection. I'm thankful for that — and for one more thing. I'm thankful for being able to dance with my youngest at his wedding. It's been a dream of mine since he was born, when I used to dance around the living room with him in my arms to the strains of Sunrise Sunset.
A Happy Thanksgiving and Chanukah to each and every one of you.