(Written before COVID-19 quarantine) It was Thursday as we stood in line for Thursday's Kitchen, the "New Korean" restaurant in the East Village. Owner Chef Kyungmin Kay Hyun's serves international tapas, created with French techniques and Spanish and Asian ingredients.
Since Thursday's Kitchen takes no reservations, a line begins forming about 5:30; they open at 6 and within a few minutes the tables are filled. It's quite a noisy, bustling young crowd.
The server comes by and explains the menu and service, suggesting each person order two dishes that will be served whenever they are ready. On the table is a small (maybe 4 or 5-inch) metal plate topped with chopsticks and a paper napkin. That's your plate for the evening. They'll bring you a fork if you need one.
We began with my favorite dish of the evening, their soupy and spicy gnocchi ($13) in a red chili sauce  — gochujang — and garlic aioli base topped with a black seaweed chip with pumpkin seeds that we were instructed to crush into the dish. We liked the sauce so much we saved it to drizzle on other foods.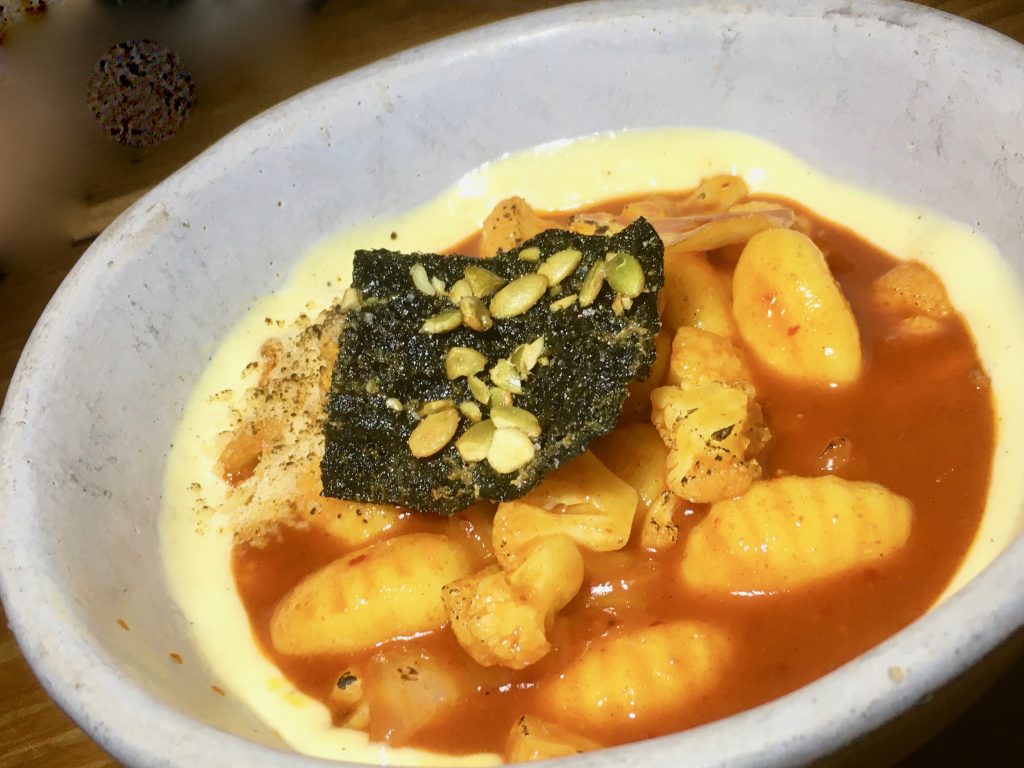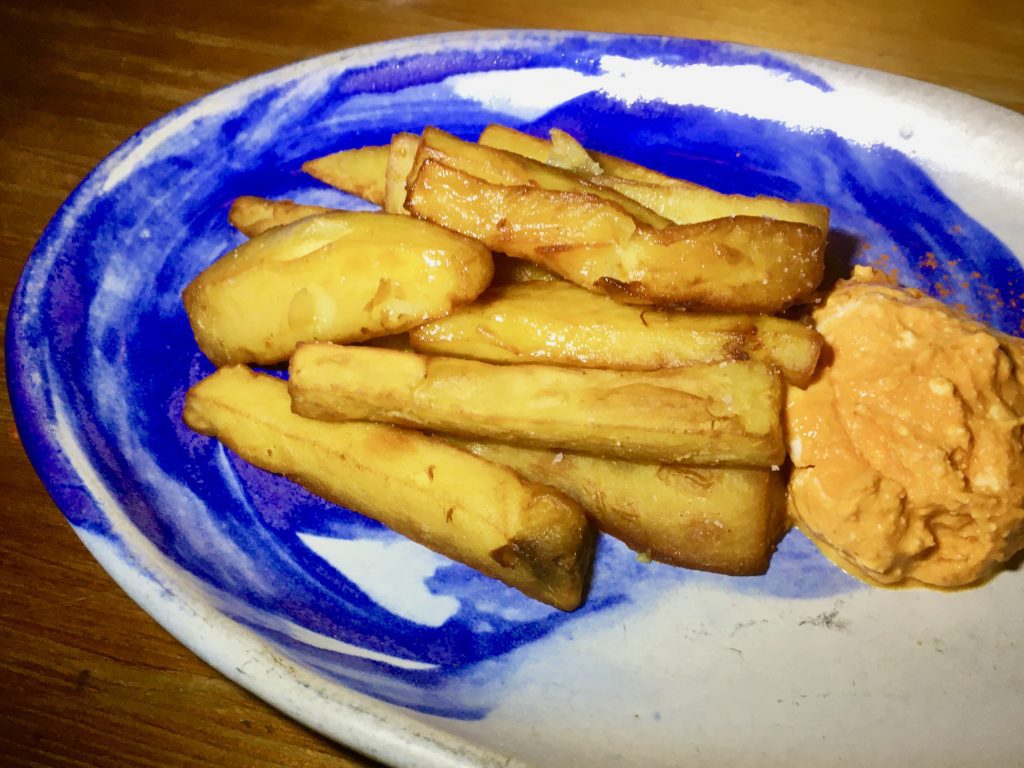 The sauce didn't help the overcooked pork frita ($13), an interesting but a bit dry ground Cuban-style pork shoulder patty topped with charred red pepper and crumbled candied bacon drizzled with a fish-oil lime sauce. Nothing did.
The angry sweet potato ($9) batons are served on a plate sprinkled with cayenne pepper along with sriracha infused goat cheese.  We all liked their soy-garlic glazed hanger steak ($14) that's only served medium-rare and the sautéed kale nicely flavored with a spiced vinaigrette. The taste of feta was almost non-existent in the "feta grits" accompaniment.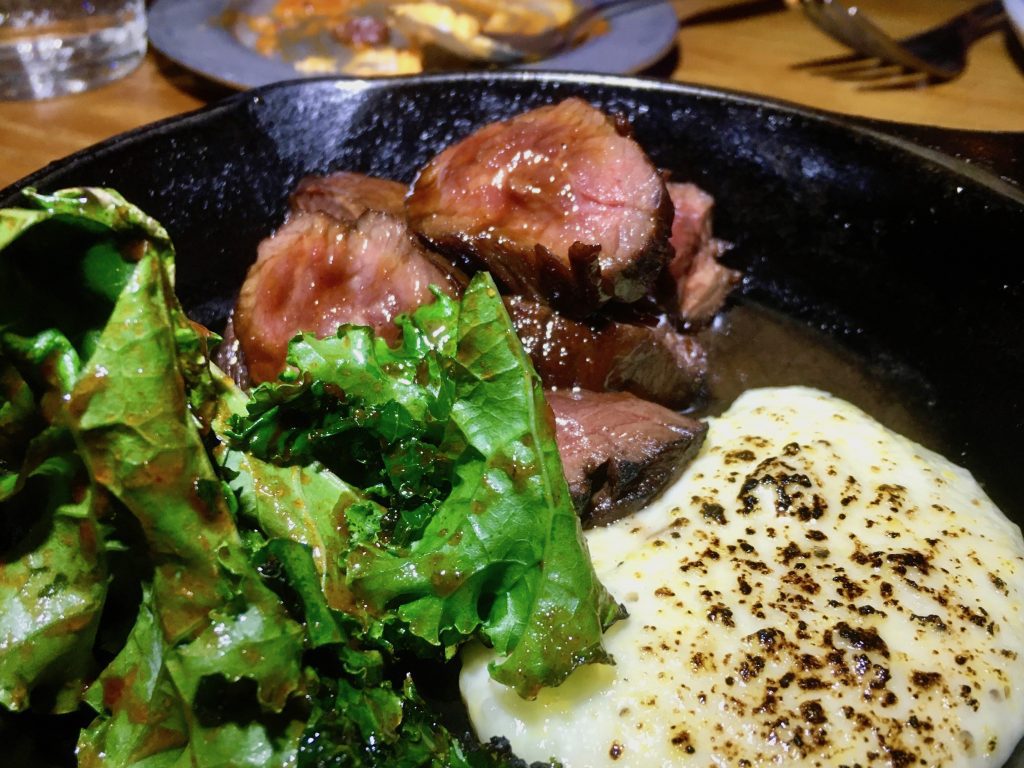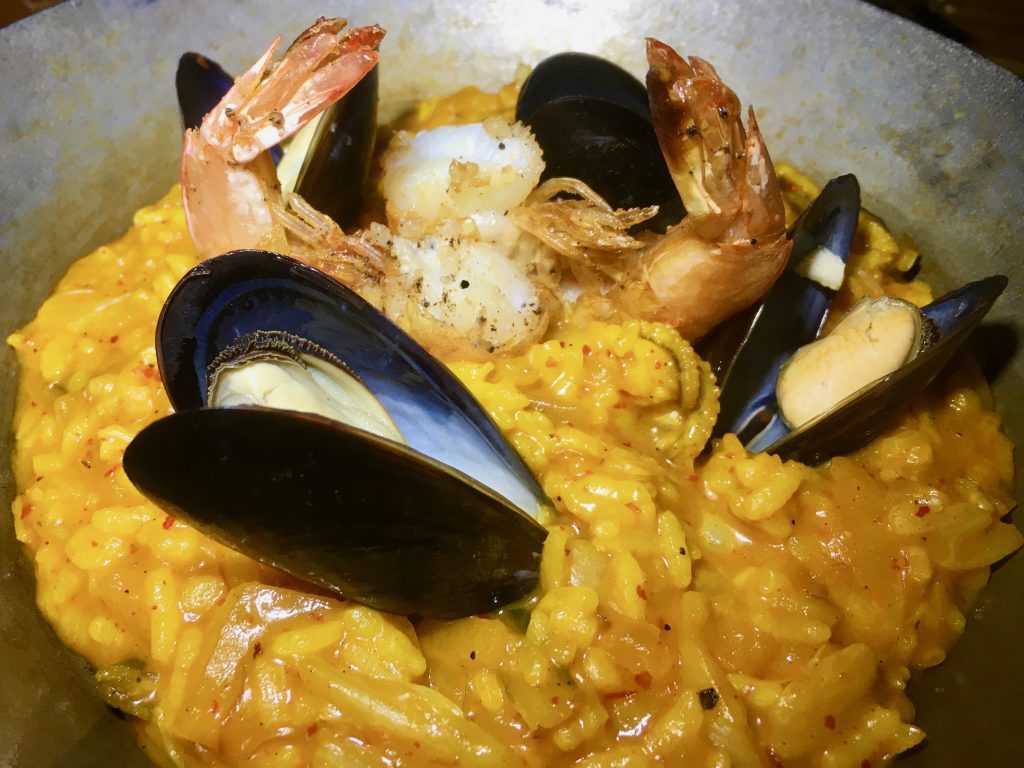 The unusual seafood saffron rice paella ($14) made my brother-in-law very happy with it's caramelized kimchi, white tiger shrimp (2) and mussels (4). While we all liked the delicate steamed edamame dumplings ($11 for four) drizzled with white truffle oil, diced green pepper and grated Parmigiano Reggiano.
The most plentiful of all our dishes was the Korean popcorn chicken ($13) with a sweet and gochujang spicy glaze with black sesame crumble. The last dish to be served was their truffle mac & cheese ($12) with sliced of hearts of palm drizzled with truffle oil and micro basil. Sadly the pot it was served in was hot, yet the contents soupy and almost room temperature. We were told they wouldn't make us another one but could heat it for us. We declined. They did remove it from the bill.
I'd recommend Thursday's Kitchen only if you don't mind noisy restaurants.
Thursday's Kitchen
East Village
424 E 9th St
New York, NY 10009