The Saint Austere in East Williamsburg is a family-owned restaurant that if you live in that hood could become your neighborhood hang-out. The wood-lined narrow restaurant feels homey, with shared long high tables. Four siblings — Fabrizio, John, Jacqueline, and Michael— own and operate the restaurant. Brother Michael — a James Beard Award semifinalist and owner of Miami's celebrated Macchialina — recently was appointed Executive Chef of the Italian restaurant. I was invited to sample their fare.
I began with their nicely blended Pina Margarita ($13), made with charred pineapple, Del Amico mezcal, orange liqueur, agave and lime. From that point on, we were in their hands for their tasting menu of four courses ($55 per person), plus wines ($80 per person). To give you an idea of the costs, I'm also listing the individual prices.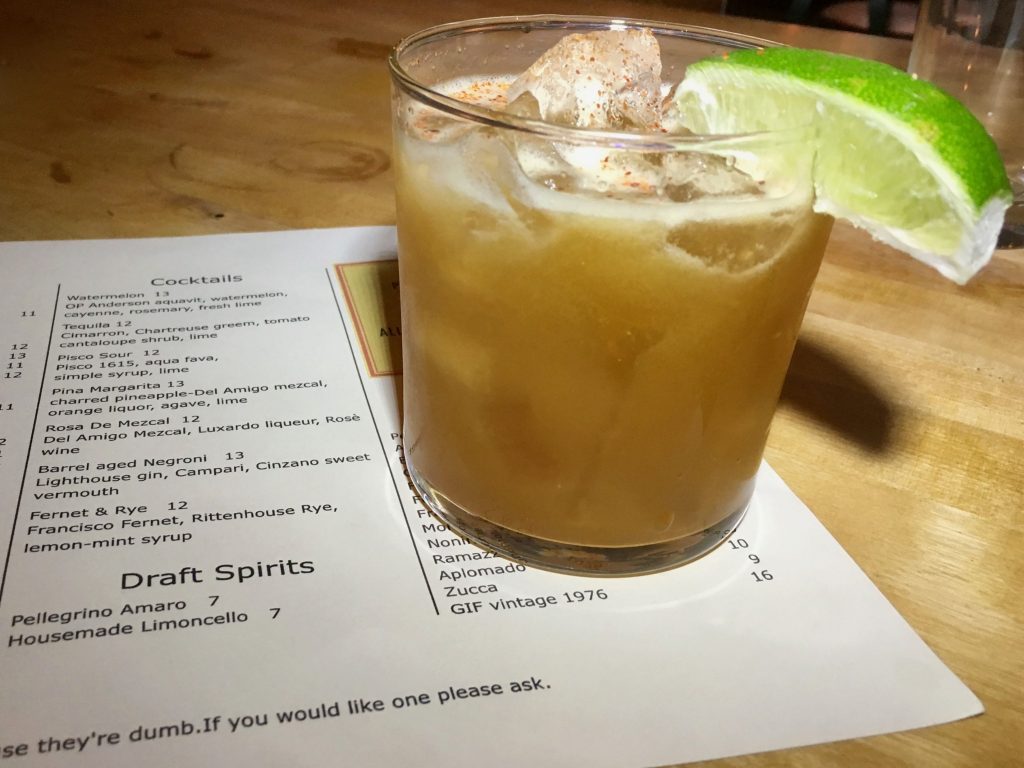 Our first wine was the Aligote, Domaine Faiveley, Burgundy, France, 2012 ($49/bottle) to accompany the small plates, including one of their most popular dishes, a creamy polenta ($12) topped with a meat ragu had that's been on the menu since they opened in 2011. We sampled their broccoli rabe ($11) with Panko crumbs, anchovy dressing and a soft-cooked egg.  My favorite is their tender octopus ($16) with grilled potatoes topped with tomatoes and pickled onions flecked with chili.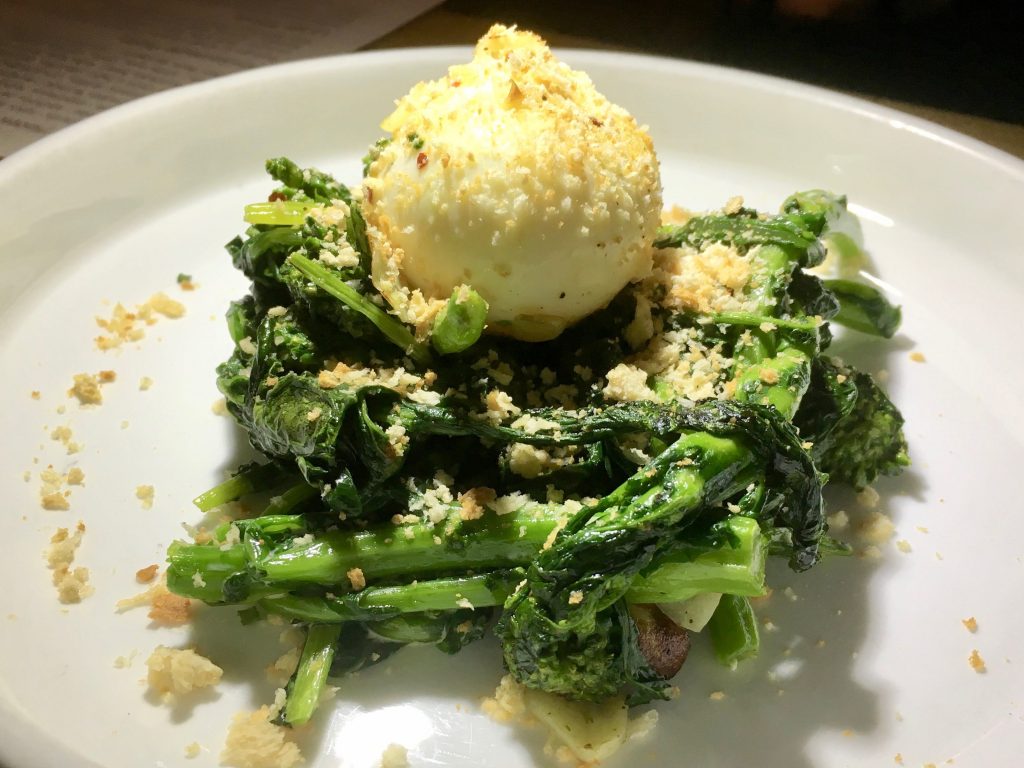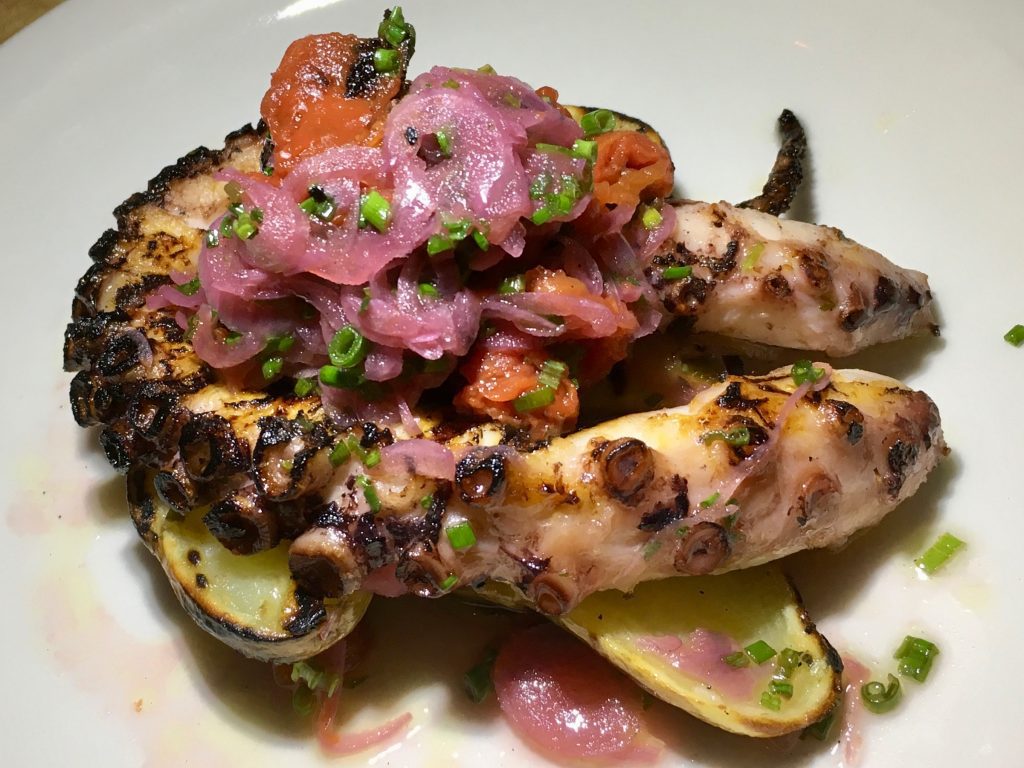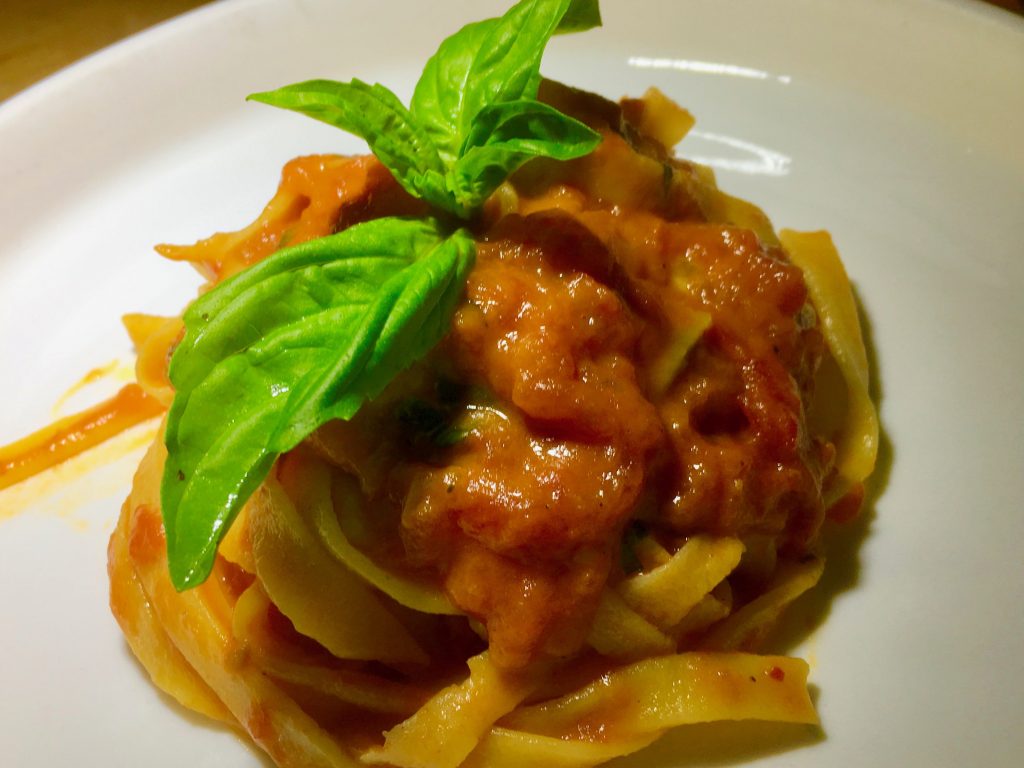 The Lambrusco "Rosso All'Antica" Bertolani, Emilia-Romagna, Italy 2016 ($25/half bottle) was a perfect match for the house-made tagliolini in a simple tomato basil sauce ($22) with a meatball.
I hadn't sampled orange wine before. Loved the natural Chenin Blank"Jurassic Park" Kunin, 2012, Liguria, Italy that accompanied our main courses. The Branzino sat atop tiny Yukon gold potatoes rounds in brown butter with capers ($23) and a salad ($14). The baby kale in a light lovely lemon vinaigrette topped with crispy sunchokes was delightful, not needing the added pureed and chunks of redundant sunchokes.
We ended with the blueberry crisp and housemade limoncello.
The Saint Austere
613 Grand Street
Brooklyn, New York 11211
Telephone: 718.388.0012