Before heading to see The Artist at the Criterion, we stopped in across the street at the Red Lentil Vegetarian and Vegan Restaurant for dinner. Since we had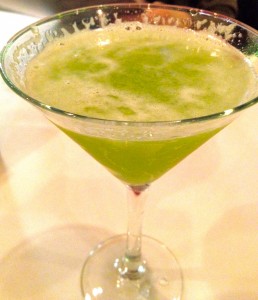 left ourselves lots of time before the show started, we had martini's before dinner.
Problem was the fresh juicer stopped working after they'd made only one Garden Martini  (vodka, fresh cucumber juice, St. Germain Elderflower Liqueur and fresh lime juice $10) so only one drink could have that fresh cucumber juice. So we ended up sampling their  Temple Pear martini (Grey Goose vodka, St. Germain Elderflower Liqueur and fresh squeezed lime juice, $10) and the Organically Dirty Martini (Rain Organic Vodka and olive juice, $8). Both were tasty too.
And we ordered some nibbles to enjoy with our drinks while we decided on dinner. The Gobi Manchurian is not to be missed. Seriously, it alone is worth a trip to Red Lentil. The cauliflower is tossed with Indian seasonings, breaded with chickpea flour, fried, and finished with sweet and spicy tomato sauce ($8), making it incredibly tender, flavorful and almost a meal in itself.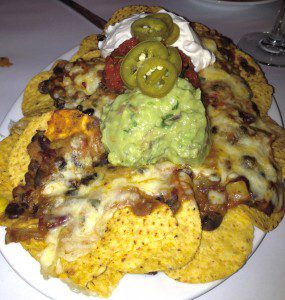 And their version of Grande Nachos are grand indeed, and very filling.  The order consists of a pile of  organic corn tortilla chips, topped with refried black beans and jalapeno jack cheese,  topped with fresh Pico de Gallo, house made sour cream, fresh guacamole and sliced jalapenos ($9.00).
Those two dishes were so filling that we never even got around to ordering entrees. Another time for sure. And if you're try it before going to the Criterion, wait before buying your tickets. Red Lentil offers one $7 admission to the movies with each entree. I'll be back for sure.
– bonnie
Follow @BonnieBOTB
Red Lentil Vegetarian and Vegan Restaurant
25 Temple Street
New Haven, CT 06510
(203) 891-7105
theredlentil.com

Use our Facebook "Like" button to let your friends know which of our posts you enjoy.