After walking through a street fair in Tribeca, we stopped in The Odeon Restaurant for a light alfresco nibble. I noticed the special Sriracha bloody Mary ($13) and ordered it, wanting a spicy drink. It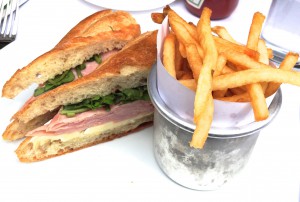 didn't disappoint.
The mixed green salad ($10) was plebeian, but refreshing. Just greens tossed in a light vinaigrette. What truly satisfied was the special sandwich – with lots of thinly sliced ham, slabs of Brie and watercress on a whole-grain mustard slathered crisp baguette served with a bucket of thin crisp fries ($16). Enough to share.
I'd return to sample more — and suggest you stop by when in Tribeca!
– bonnie
The Odeon Restaurant
Tribeca
145 W Broadway
New York, NY
(212) 233-0507