About a year ago, The Norm a restaurant inspired by the diversity of cultures in that borough, opened at The Brooklyn Museum.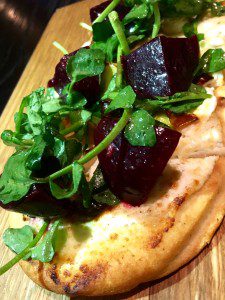 Michelin-starred Chef Saul Bolton of Great Performances offers an eclectic mix of Indian, Mexican, Japanese, Middle Eastern, Caribbean, Indo-Chinese and all-American multi-cultural flavors in the unusual menu.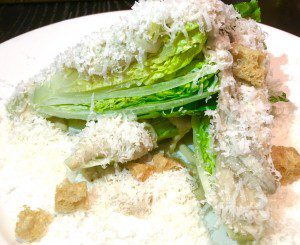 I was invited as Great Performances guest to sample the fare. I knew I was in for a treat, as I had been at many of their other locations including Signature Cafe, Dizzy's and The Garden Court Cafe, to name a few. But first we stopped in at the George O'Keefe  Living Modern exhibit that's open through July.
To start, there's an Indian Bombay snack mix ($6) to nibble with drinks; its a slightly spicy crisp blend of legumes and coconut served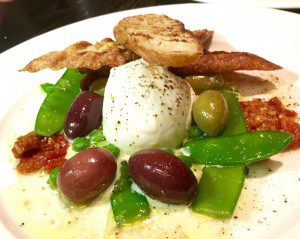 with a slice of lime to be squeezed over the contents. Another of The Norm's Snacks is the flank steak jerky, flavored with citrus, ginger and kaffir lime ($9) for a delightful chew. Our serving, which could have turned me into a devotee, had just been made.
His arancini (something I've been seeing lots of recently around town) came filled with smoked mozzarella and sweet peas. We asked for just one (usually $9 for four) of the fried rice balls to sample. I prefer my flatbread a bit more crisp than chewy like this one, which came topped with goat cheese, roasted leeks, chunks of baby red beets and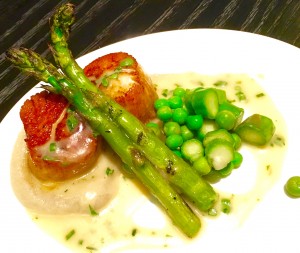 watercress ($14).
Our "from the garden" selections included burrata with lots of snow peas, a sundried tomato pesto, olives and grilled buttery baguette slices ($13). Their cutely named "Not The Norm Caesar" seemed quite a normal (and delicious) version of romaine topped with a Caesar dressing, a couple anchovies and some croutons all snow-covered in grated cheese ($13).
That night's pan-roasted Diver scallops ($22 for four) from The Grill section of the menu were cooked to perfection; browned on the outside, yet moist and flavorful inside. They came with peas, asparagus and pureed sunchokes ($27). Also recommendable is the moist (brined-first) pan-roasted tender chicken with some mushrooms and a curried bulgur ($26).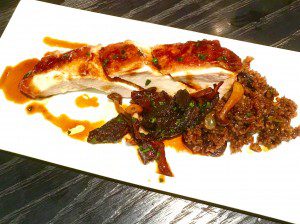 These entree photos are half portions, as the kitchen kindly split each for us to sample.
And since it was during the Georgia O'Keefe visit, the dessert section offered Georgia's Fruit Cake topped with lightly whipped creme fraiche ($11), illustrating her "connections to earthy, simple and seasonal ingredients." Another option is the whipped cream topped Jack's dark chocolate mousse with a sesame cookie ($10).
Be sure to make a reservation at The Norm when you visit the Brooklyn Museum or are in the area.
– bonnie
Follow @biteofthebest
BonnieBOTB
Follow @BonnieBOTB
The Norm
Brooklyn Museum
200 Eastern Parkway
New York City, NY 11238
(718) 230-0897
Save