For my grand nephew's twelve birthday, the family in town gathered at the Jupiter Bowl for some bowling and t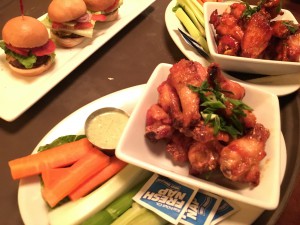 hen at the Lift Grill & Lounge dining room to eat. I was told that the food was quite good there, but we learned the management had changed. Would the offerings be as good?
We shared lots of appetizers for the table. The guacamole with chips ($8) was greatly in need of some seasoning even a soupçon of salt or the addition of jalapeños. The tortilla on the quesadilla ($9) needed more cooking; the filling again needed seasoning. The vegetarian samosas ($10), filled with potatoes, peas and lentils drizzled in a tamarind sauce, are okay. I'd recommend the sliders ($12) especially the tender brisket ones with the teeny cheeseburgers topped with lettuce and a tomato slice, second best. Also good are the maple-chipotle chicken wings ($12) with fresh carrot and celery and dipping sauce.
For my main dish, I tried the fattoush salad ($9) with baby kale, garbanzo beans, cubed feta cheese, shredded carrots, radish, parsley and mint with way, way too many pita chips (that were supposed to be grilled) all in a lemon vinaigrette. There was also an okay pizza for the table.
Would I recommend you go out of your way to dine there? Absolutely not. But if you're there with the kids to bowl, then it's an okay place to get a bite.

– bonnie
The Lift Grill and Lounge at Jupiter Bowl
Park City,
1090 Center Dr,
Park City, UT 84098
(435) 658-2695