The Kennebunkport Festival is a annual event that includes the food, wine and the art of Maine. It will run Tuesday, June 3 through Sunday, June 8, 2014. The Food Festival events take place in designer homes, displaying art work and providing meals that are prepared by individual Chefs in each of the homes. The goal is to showcase the best of Maine and what it has to offer on the coastal setting of Kennebunkport.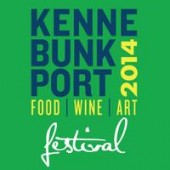 The Festival is The Art of Dining is one of the major highlights of the festival, it will be a series of dinners prepared by Maine's top chefs. The festival will also be featuring artists, musicians, wine purveyors, and beer makers.
Proceeds from the Art of Dining Dinners go to Share Our Strength, the nation's premier culinary benefit making sure no child grows up hungry.
For additional information, including chef profiles, participating restaurants,
click here.