Walking into The Grill on the Alley on a cold, rainy, and blustery evening felt like stepping onto an island of calm. Chef Daniel, who works this restaurant as if he were entertaining his friends at home, greeted us and led us to a quiet booth with a full view of the restaurant. The décor resembled an uptown steak house, with black and white deco inspired details, soft lighting, waiters in white dinner jackets, helpful and attentive, but not obtrusive.
But, let's get to the food, which surprised us on several counts. The Dallas branch of The Grill on the Alley opened in 2006 at the Galleria Dallas. The Grill specializes in prime steaks and chops, but the seafood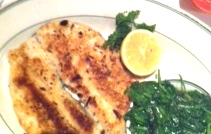 was some of the best we've had in town, which is saying a lot because as land-locked Dallas prides itself on great seafood.
We started with the grilled seafood appetizer — a trio of grilled shrimp, jumbo lump crab cake and pan-seared sea scallops with an orange fennel beurre blanc ($16.50). The shrimp was cooked perfectly, tender and crisp, and slightly smoky from the grill. The delicately seasoned and lightly sautéed all-meat-no crab cakes were most delicious ones I've ever eaten, anywhere, even in Chesapeake Bay. Its beurre blanc was a sweet and buttery addition, not too overpowering.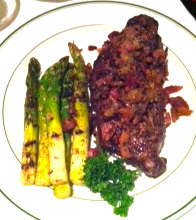 The butternut squash soup ($6.75) was thick and hearty, with a touch of ginger that added an earthy zest to the sweetness of the squash.The warm crusty sourdough bread was served with lightly salted butter.
The 16-ounce aged prime New York pepper steak came topped with cracked pepper, bacon, and caramelized onions ($43.75), perfect toppings. Although the huge portion of beef was tender and enough for two hearty eaters, it was slightly overcooked, more medium not medium-rare as we ordered. Chef Daniel suggested a Bin 54 zinfandel to go with the steak that was medium bodied and slightly spicy, a lovely pairing.
The pan-seared sweet Idaho trout filet almandine ($21.75) was lightly dusted with flour, then seared to a golden brown. It was served with tender leaves of spinach sautéed with garlic, and the house specialty, macaroni and cheese – a blend of three cheeses, mushrooms, and double smoked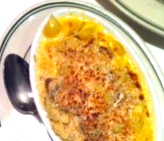 bacon ($8.50).
For dessert, we had "The Grill" fudge brownie pie ($8.00) topped with vanilla ice cream, warm caramel and chocolate sauce and candied pecans, a sinful delight! The homemade key lime custard pie ($8.00), with graham cracker crust was served whipped heavy cream, lime zest and raspberry puree – a sweeteness that balanced the tart and tangy key lime custard.
I recommended The Grill on the Alley highly – as overall, it was a fine dining experience, and one that I hope to enjoy again soon.
– special correspondent Stephanie Amsel
The Grill on the Alley
13270 Dallas Pkwy
Dallas, TX 75240
(214) 459-1601
thegrill.com