We stopped in at The Gelston House, in a bucolic setting on the Connecticut River in East, Haddam, CT, for a quick bite before theatre. The restaurant is not known for its food, but instead for the spectacular views and the proximity to Goodspeed Opera House, home of Man of La Mancha, Shenandoah, and Annie —it's right next door and really the only restaurant near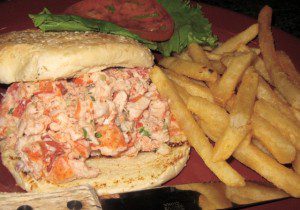 by.
The food during this visit was no exception. The Lobster Salad Sandwich ($17.95) on brioche with fennel and tarragon mayo, lettuce, tomato and French fries was filling but not satisfying. Sadly the lobster was mostly minced and wasn't very fresh, and the service was lackadaisical.
The good news: Show Boat the Jerome Kern-Oscar Hammerstein II musical — including the songs Ol' Man River, and  Can't Help Lovin' Dat Man — at Goodspeed Musicals was a superb, production. If you attend one of Goodspeed's three musicals a year and weather permits, I suggest instead packing a picnic and dining al fresco.
– bonnie
Gelston House
8 Main St
East Haddam, CT 06423
www.gelston house.com
(860) 873-1411