The Fourth is the spacious restaurant inside the new Hyatt Union Square hotel from Jo-Ann Makovitzky and Marco Moreira, the husband-and-wife team behind Tocqueville and 15 East.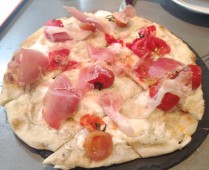 This large open artsy space has wooden white bedframes and bubble chandeliers hanging from the ceiling.
I stopped by recently at lunch to sample the fare. Realizing the restaurant just opened, I had more patience than usual with the kitchen and our uninformed waitress. I started with a refreshing Ice Tea Cooler, sans the Lillet it was supposed to contain in addition to the fresh brewed ice tea and gin ($12).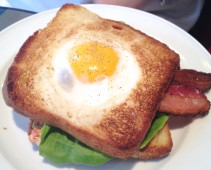 For an appetizer we shared the flatbread roasted in the hearth topped with fire-roasted cherry tomatoes, burratta & Parma Crudo ($13). Sadly, the crust was slightly undercooked and didn't have enough burratta to even recognize that cream-filled mozzarella taste.
The hearth-roasted branzino with artichoke barigoule & red wine-black olive sauce ($23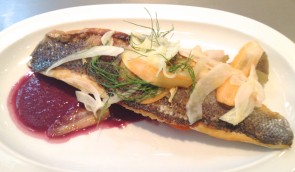 ) worked, as did the delicious B.E.L.T sandwich with double smoked bacon, lettuce and tomato on brioche plus the E, for a one-eyed Susan (AKA fried egg, $18).
Once they get more into the rhythm, I'll go back and try the espresso bar with freshly baked goods and their Café Quatrième, a new coffee I've only heard about… and some more menu selections.
– bonnie
Follow @BonnieBOTB
The Fourth
132 4th Avenue
New York, NY 10003
( between 13th and 12th)
(212) 432-1324
thefourthny.com