For the last night of my eating orgy in Park City area, we heading to The Farm in the Canyo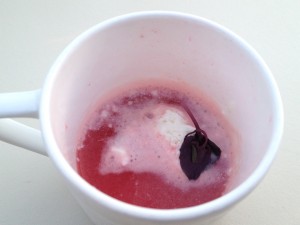 ns Ski Resort. We opted to dine outside on the patio across from the base of Red Pine Gondola, and were accompanied by Caitin Martz, the communications coordinator for The Canyons.  This year, the Farm was named the "Best New Restaurant in Utah" by Salt Lake Magazine; their menu focuses on locally sourced ingredients from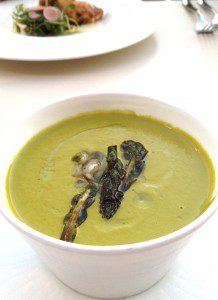 farms and artisans within 200 miles of Park City.
With four of us at the table, we were able to sample lots of the food of executive chef John Murcko, a James Beard Foundation 2012 semi-finalist for Best Chef in the Southwest.
The chef's amuse bouche consisted of the most unusually delightful rhubarb soda with blue cheese foam and was a harbinger of good things to come.
Although the menu is constantly changing, we learned from our top-notch waiter Stefan Brutsch, that The Farm always keeps the Grass-fed beef "oxtail" onion soup ($9) over rustic bread, topped with "Barely Buzzed" cheddar – as if they tried to remove it patrons loudly complain. Our waiter arranged for the kitchen to provide us with small tasting portions of this rich hearty soup.  I recommend it highly after a day of activities.
One of our group sampled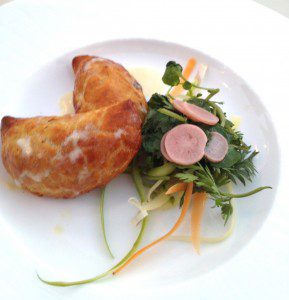 the asparagus soup topped with spring onion oil and fried asparagus tips ($8), made rich sans cream. We also tried a sliced roasted red and diced golden beets with greens, topped with pickled red onions, and feta with a light Slide Ridge Honey vinaigrette ($12); and Grandma Murcko's short rib-filled pasties (two for $12) with shaved asparagus, pickled radishes and greens.
The chef also sent us a sample size portion of the unusual and not-to-be missed barley risotto, with sunchokes, sno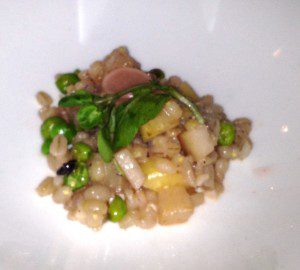 w peas, carrots, with pickled radish on top.
One of my favorite of the entrees is their moist and tender Buttermilk Fried Air-Chilled Game Hen ($26) that comes with a warm German-style potato salad with whole grain mustard, topped with pea and corn shoots.
Also tasty were the rolled tagliatelle pasta ($23) with creamy Shepherd's Dairy goat cheese, a melange of spring vegetables — zucchini, early spring squash, onions, roasted peppers — all d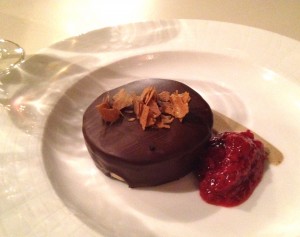 rizzled with basil oil; the Grass Valley Steelhead trout ($26) topped with watercress and parley infused goat's milk, shiitake mushroom filled with mushrooms, asparagus; and the Summit Country grass-fed Ribeye ($32) with garlic cream, caramelized cipollini, spinach & parsnip puree, new potatoes and pan juices.
With four of us at the table, we happily decided to share a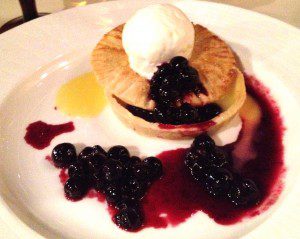 ll three dessert options as we salivated with our waiter's explanations. The desserts were even better than he described. Don't miss either the individual lemon pie, with a homemade pie crust filled with lemon custard, topped with blueberry mint compote and Slide Ridge honey gelato-style ice cream, or the chocolate and peanut butter mud pie (an Oreo crust layered with house made chocolate and peanut butter mousse, chocolate ganache, espresso coffee sauce and homemade raspberry jam. Also good is the New York style cheesecake pudding, made by whipping cheesecake with a hint of lemon and topping it with a strawberry-rhubarb compote and some graham cracker crumble.
A restaurant experience to be savored.
– bonnie
The Farm (Canyons Ski Resort)
4000 The Canyons Resort Drive
Park City, UT 84098
(435) 615-8060
thecanyons.com