For those coming to DC on the train and in need of a bite, head across the street over to the right to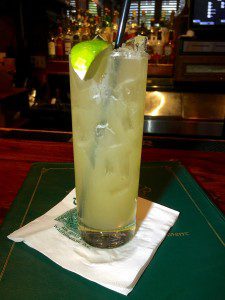 The Dubliner, the red brick building visible when you exit Union Station. It's a hospitable and lively pub serving Irish favorites with live music nightly. The Dubliner's been open since 1974.
I started with an "Irish Catholic," a Moscow Mule with instead of the traditional vodka, The Dubliner Irish Whiskey, a smooth-drinking blended whiskey aged in American Oak bourbon casks. A must try ($11)! With my
meal, I had their Auld Dubliner Amber Ale, a brew made exclusively for them ($7).  I'd recommend both.
For apps, we had their fresh potato skins ($9.50) topped with chopped bacon, sour cream and a cheese sauce. Do try these, as they are fairly delicate (for potato skins!) and freshly made.
Try the iceberg salad ($8.95) covered in a light buttermilk ranch dressing with more bacon, Dubliner cheese, hard-cooked egg and grape tomatoes, garnished with fresh grapes as a side dish.
As their guest, namesake nephew of the founder Danny Coleman wanted us to sample many of their dishes, so he made us half portions as pictured in the photos.
I tried the chicken pot pie ($15.95)
containing huge chunks of chicken along with peas and carrots in a cream sauce, topped with a flaky puff pastry crust; shepherd's pie ($16.95), with both beef & lamb and peas & carrots all in a Guinness gravy, topped with whipped potatoes; and fish & chips ($15.95), beer-battered fried cod (the fish of the evening) with thick-cut cottage fries. Each was the type hearty dishes you'd find in an Irish pub. My vegetarian companion sampled the tasty beet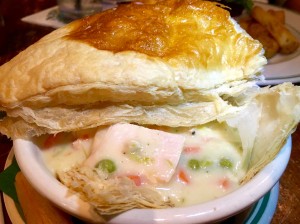 sandwich ($10.95) with goat cheese, lettuce, tomato and cucumber on a brioche roll.
Be sure to finish with a perfect Irish coffee: a heated glass filled with Irish whiskey, then freshly brewed coffee, all topped with whipped cream.
A neighborhood pub I'd frequent if I lived in D.C.
– bonnie
BonnieBOTB
Follow @BonnieBOTB

The Dubliner
Capital Hill
4 F St NW
Washington, DC 20001
Save
Save
Save