Brian Lewis recently opened The Cottage, a 44-seat restaurant (formerly The Farm), across the Boston Post Road from The Westport Country Playhouse. Like his former place The Elm, Brian considers the restaurant a modern American one, featuring changing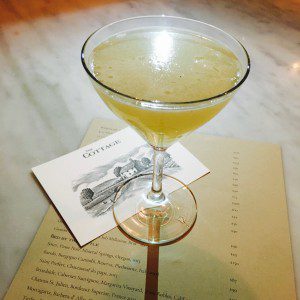 seasonal menus that spotlight regional local farmers and artisans.
His creative dishes show off his skill at highlighting the flavors and textures of individual ingredients adding a soupçon of the culture of Italy, Spain, France, Japan and/or New England. I was invited to sample his cooking recently. Brian made us small plates of practically the entire menu! (If you'd also like to have a tasting menu, all you need to do is ask!) The prices shown here are the regular menu ones, not tasting portions.
We started with the not-to-be missed Emerald Dragon cocktail, a blend of house-infused green tea vodka, yuzu juice, Meyer lemon juice and ginger simple syrup served in a chilled martini glass.
While we were perusing the menu, Brian proudly showed off his steaming quince and apple tart tartin that he has just pulled out of the oven; we'd have to wait for dessert for that.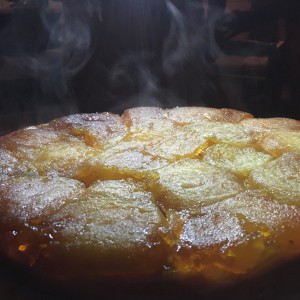 We started that evening's eating orgy with two crudos. A lightly cured raw sea scallop ($17) over pureed fennel with preserved lemon and fennel slivers, supremes of grapefruit and a little bit of heat with added habañero pepper; and the crunchy tuna ($16), again lightly cured, wrapped around avocado and topped with crunchy red quinoa (sort of pop-rocks) all  drizzled with shoyu. With that we had a glass of the Erste & Neue, Pinot Bianco, 2014, Alto Adige, Italy ($11)
Don't miss his sunchoke soup if it's still on the menu. The hot soup is poured tableside into a bowl already containing crispy bacon cooked in Millstone Farms maple syrup and sherry vinegar and onions,  plus a preserved black truffle marmalade ($13).
I highly recommend the Wagyu brisket stea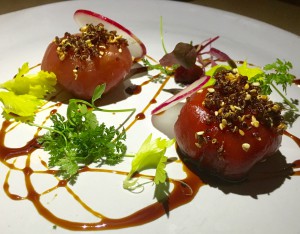 m buns ($6 per bun) that come as a do-it-yourself sandwich platter with house-fermented  Napa kimchi, duck fat potato tempura, buns and the sliced Wagyu brisket rubbed with a fermented black garlic and squid ink mixture before being sous vide for three days. In fact, I wish he just offered a platter of the highly flavored, tender beef, as it's that good.  With that we drank Gustav, Grüner Veltliner, 2014, Austria ($10 ).
Two pasta courses were next served with Lioco Chardonnay, 2014 Sonoma County, Calif ($15). The essence of lobster permeated the spaghetti that came with lobster pieces, sea urchin and Calabrian chili ($17/27), while his duck confit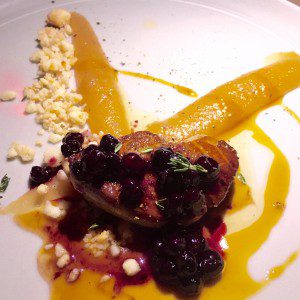 fettuccini carbonara came with crisp guanciale and was thickened with a salt cured egg ($16/26).
As our waiter poured some Sauterne I knew a rich sauteed foie gras dish was next. It was flavored with vanilla, quince and sherry vinegar, topped with huckleberries garnished with chopped smoked macadamias ($19).
With our fish courses, we sipped Moccagatta, Barbera d' Alba, Piemonte, Italy 2013 ($13). By this time, as you can imagine we were almost too full to continue, but Brian had a couple more dishes to share including a garlicky Casco Bay cod with chorizo o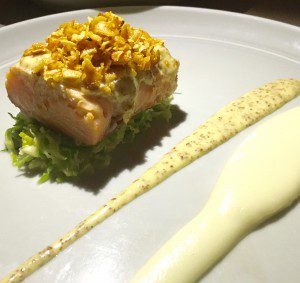 ver a ragu of white beans ($27) and his salmon cooked in Japanese cedar paper, served over shredded Brussels sprouts; he decorated the plate with both sunchoke puree and apple mustard ($29).
Our last main dish was his duck fried rice served with Cote du Rhone, Les Garrigues, Rhone Valley, 2014 ($10). The sliced medium-rare duck came with glutenous sushi rice cooked in duck fat (he loves those ducks!), with duck confit, crispy garlic, sesame seeds, bok choy leaves, maiitake mushrooms and — for sweet heat — togarashi (ground dried Japanese fire-roasted pepper), topped with a sunny side up quail egg.
Other than the made-fresh-daily tarte tatin served with clabbored cream, the desserts are just simple concoctions that are put together in house ($9 each). We sampled both the vanilla ice cream sundae with huckleberries & toasted almonds and the butterscotch pudding with bananas foster caramel topped with a pecan granola.
If you're anywhere near Westport, I suggest sampling his offerings.
– bonnie
The Cottage
Westport
256 Post Road East,
Westport, CT 6880
(203) 557-3701