I headed over to Tenth Avenue for brunch with friends at Cookshop. We first indulged in their cocktails — I sampled the Cookshop Mary ($12) with vodka, tomato juice, lemon and Worcestershire made spicy with fresh horseradish and Tabasco. My friends tried the Blood Orange Mojito made with Pyrat rum, muddled blood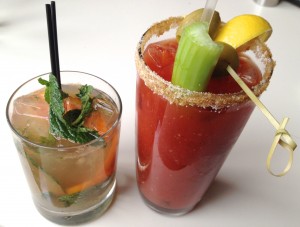 oranges, house-made cardamom simple syrup and fresh mint  ($12). After trying a sip of theirs, it's what I'd highly recommend.
While deciding on our entrees, we nibbled on an order of their hot beignets made with with DiPalo's fresh ricotta cheese, served in a puddle of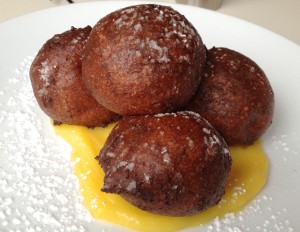 lemon curd (4 for $11) and sprinkled with powdered sugar.
One friend ordered the frittata ($14) with caramelized onions, portobello mushrooms and DiPalo's smoked mozzarella, the other a Cookshop scramble ($16) with caramelized onions, crème fraiche, chives and smoked trout, served with & a buttermilk biscuit ($16). The scrample had the better flavor!
In deciding between the Huevos Rancheros and Poached Eggs,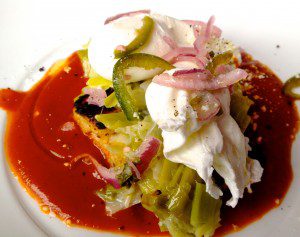 our server suggested I try the latter ($18) saying it was for a more sophisticated palate. In that dish, the eggs are served over grilled polenta, soft cooked leeks in a red guajillo chile sauce, topped with cotija cheese, pickled onions and jalapenos.  Unfortunately the poached eggs were hard cooked; the server took them back to re-do. But sadly when my dish returned the eggs were perfect, the rest of the dish cold. Since everyone else at the table had already half finished, I didn't send it back a second time. Disappointing is an understatement.
Aware of their mistake, the kitchen offered desserts for each of us.  Quite full, we settled on sharing one decadent chocolate one. That gesture, the good service plus the other delicious brunch items, makes me recommend Cookshop for brunch – just skip the poached eggs.
The Cookshop
156 10th Avenue
New York, NY 10011
212.924.4440