The publicist had been after me for a long time to take a train ride north to Dobbs Ferry to try David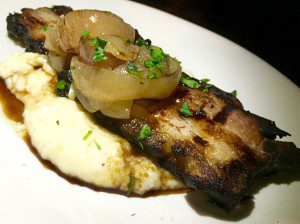 DiBari's cooking. I finally made the trip. Sadly Dave wasn't there, as he was at his year-old wood-fired pizza restaurant The Parlor, nearby. His staff, though, took great care of us helping to navigate the menu to be sure we sampled Dave's specialties.
I had learned that the chef was the youngest Westchester to earn an "Excellent" rating in the New York Times. From my research, I learned The Cookery had become synonymous for the osso buco and the meatballs, voted the best in the area by Westchester Magazine. I knew I'd try both.

I began with a specialty cocktail, The Conqueror ($12), a blend of three of my favorite libations: vodka, Aperol and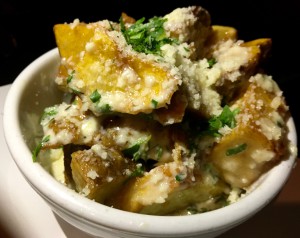 Littet Blanc along with some fresh lemon juice.
For apps, don't miss the very tender octopus ($14) tentacle — ordered grilled instead of the menu-offered fried — with smoked tomatoes, chopped pistachio, fresh parsley and lemon. Dave should consider making that night's special app of cheddar cheese polenta topped with house-cured bacon and cipollini onions ($14) part of the regular menu, as it's irresistible. Our friendly waiter Bjorn described the buttery salty potatoes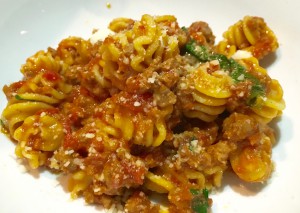 ($9) showered with Parmigiano Reggiano as "crack on a plate." Hot from the kitchen, they were that good.
I had read that The Cookery's meatballs ($12) were an heirloom recipe from Dave's grandmother, I found them a bit bready for my liking — but I don't have an Italian grandmother. With these appetizers, wine director Ralph A Rubino offered a glass of the acidic and aromatic 2013 northern Italian Friulano Terlato Colli Orientali DOC Friuli ($11); he also selected the other wines to go with our dinner.
Next up were the homemade pastas. While I had those courses, my friend who can't eat gluten tried the local grilled smoky cabbage ($13) with gala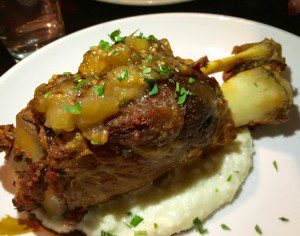 apple, blue cheese, bacon and fried cashews. I could have eaten a plateful of that!
I asked for as small a portion as possible. I wanted to sample three of their many housemade pastas as I heard they are not to be missed. I liked all three. That included that night's special of sort of cacio e pepe with Meyer lemon and house-made mozzarella ($17); the garlicky cauliflower ravioli ($17) in a lemon brown butter showered with parmigiano Reggiano, and —my favorite — the hearty radiatore ($17) with lamb bolognese, softened with some fresh mint and sprinkled with grated Parmigiano Reggiano.  I was offered two wines – a glass of Domaine du Tariquet Classic, IGP Cotes de Gascogne, France 2014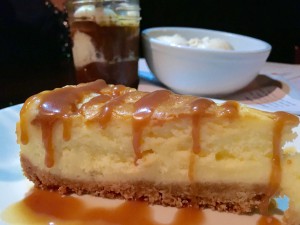 for the lighter dishes, and the 2013 Sangiovese, Vignamaggio, "Prenzano", Chianti Classico, DOCG, Tuscany, Italy ($11) for my lamb.
The whole grilled head-on boned branzino ($27) was cooked to perfection, sitting on a bed of shaved Brussels sprouts in brown butter and drizzled with lemon mayo. The Cookery's a signature dish, which has been on the menu since they opened, is their pork osso bucco. The pork was incredibly tender and fell off the bone, but I thought a bit odd. I say odd only because the dish wasn't the moist, braised meat I think of when I hear osso bucco ($29), instead they cook it in its own fat for several hours, then flash fry it until crisp (leaving it a bit dry for my taste). It's served with white polenta and apple mustard.
Although too full for dessert, we did squeeze in some room to sample a few. The stickabutta pie ($8) with a toasted almond crust all drizzled with caramel is like a buttery cheesecake, quite rich, as is their take on s'mores: chocolate polenta, graham crackers and toasted marshmallow stacked into a Mason jar ($9). Their ice cream is Jane's, the evening's was a rich peanut butter.
If you're in Westchester, consider at stop in at The Cookery.
– bonnie
BonnieBOTB
Follow @BonnieBOTB

The Cookery
Dobbs Ferry
39 Chestnut Street
Dobbs Ferry, NY 10522
(914) 305-2336