Stephen Starr's The Continental, on Miami Beach, has a vintage-feel with a brunch menu not to be missed. It's also a fun place to just grab a drink. I had both recently when at the SOBE Food & Wine Festival (#SOBEWFF).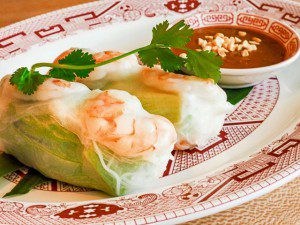 As a Moscow mule fan, I had to start with the bright red dragonfruit one containing a smidgen of that fruit puree in a regular drink. Refreshing for sure ($14).
Before our eggs — with our cocktails — we sampled their light and flavorful Vietnamese summer roll filled with shrimp, "crab" sticks, broken rice noodles and herbs and accompanied by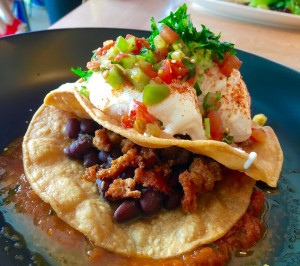 a peanut sauce ($14). I'd recommend that over their signature much more, dense fried cheesesteak (beef, American cheese and onions) eggroll served with a cherry pepper and sriracha ketchup ($17).
I'm a real Huevos Rancheros fan and found this one outstanding with two eggs (I asked for poached) on crisp tortillas, with cotija cheese, crumbled chorizo, black beans topped with a light lime crema and fresh salsa ranchero ($16).
My dining companion was about to
order the avocado omelet, but Stephanie, our friendly hostess suggested the simple avocado toast instead, with that mashed fruit and a little sea salt on fresh ZBT (Zak the Baker) fresh multigrain toast, also with poached eggs, a small salad and wonderfully crispy home fried potatoes ($14). Great suggestion.
Stephanie also suggested dessert. We were oh, so full but decided we had to try them — and were so glad we did (I'm actually still dreaming about that chocolate cake). The gingered plum tart is served warm in its own cast-iron pan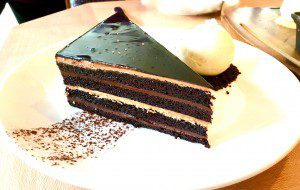 along with creme fraiche ice cream ($12), I'd skip that for the amazingly large chocolate and ganache layered Millionaire's chocolate cake with vanilla bean ice cream ($12).
– bonnie
Continental
Miami Beach
2360 Collins Avenue
Miami, FL 33139
(305) 604-2000