Living in Connecticut, I'm always looking for places on the water to dine when the weather's conducive. You'd think we'd have many many places to dine, but oddly there are few where you can actually sit outside by the water. One that I recommend is  The Boathouse at Saugatuck Rowing Club in Westport, right on the Saugatuck River.
I took my friend Carol to there for her birthday earlier this summer. We had dined inside at The Boathouse before, but heard they had a new chef and the restaurant was under new management. We weren't disappointed.
Chef John Holzwarth's menu changes frequently as he uses what's local and in season.  Holzwarth most recently hails from The Dressing Room (also in Westport) where he worked with Michel Nischan as the Executive Chef of that farm to table restaurant near the Westport Playhouse.
The afternoon we dined on the deck sitting above the Saugatuck River,  we sampled a chilled,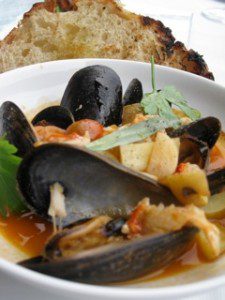 refreshing  salad with huge chunks of Montauk lobster with fresh spring vegetables, avocado and an heirloom shell bean salad ($15). We also devoured one of the daily specials: mussels in a rich tomato-flavored broth.
The imaginative locavore's mixed salad contained fresh Long Island greens, heirloom tomatoes and strawberries with shaved local Nehantic Abbey cheese in a light balsamic vinaigrette ($12). I wouldn't call the open-faced grilled vegetable sandwich a "sandwich" per se, but I would recommend this roasted portabello served on thickened sweet corn polenta rounds (The "Sandwich") with fresh mozzarella and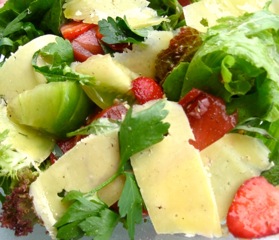 garden vegetables ($13).
Too full for one of the luscious sounding desserts, we opted for the selection of handmade chocolate artisan truffles ($10): bittersweet ganache & cocoa nibs; bittersweet ganache & Spanish paprika; and basil milk chocolate ganache tripple dipped white.
– bonnie
The Boathouse at Saugatuck Rowing Club
521 Riverside Avenue
Westport, CT 06880
203.227.3399