My daughter-in-law asked me to bake and decorate my granddaughter's first birthday cake; she sent me a photo of what she'd like with the end result to be: a colorful butterfly.
I couldn't say no.
I had multiple worries as I would be baking in France with unfamiliar flour, butter and sugars. The kids had minimal equipment in their brand new Parisian home after being on the road for two years seeing the Best World Yet. That and I had given away all my decorating pastes, bags and tips when I downsized and moved to New York City.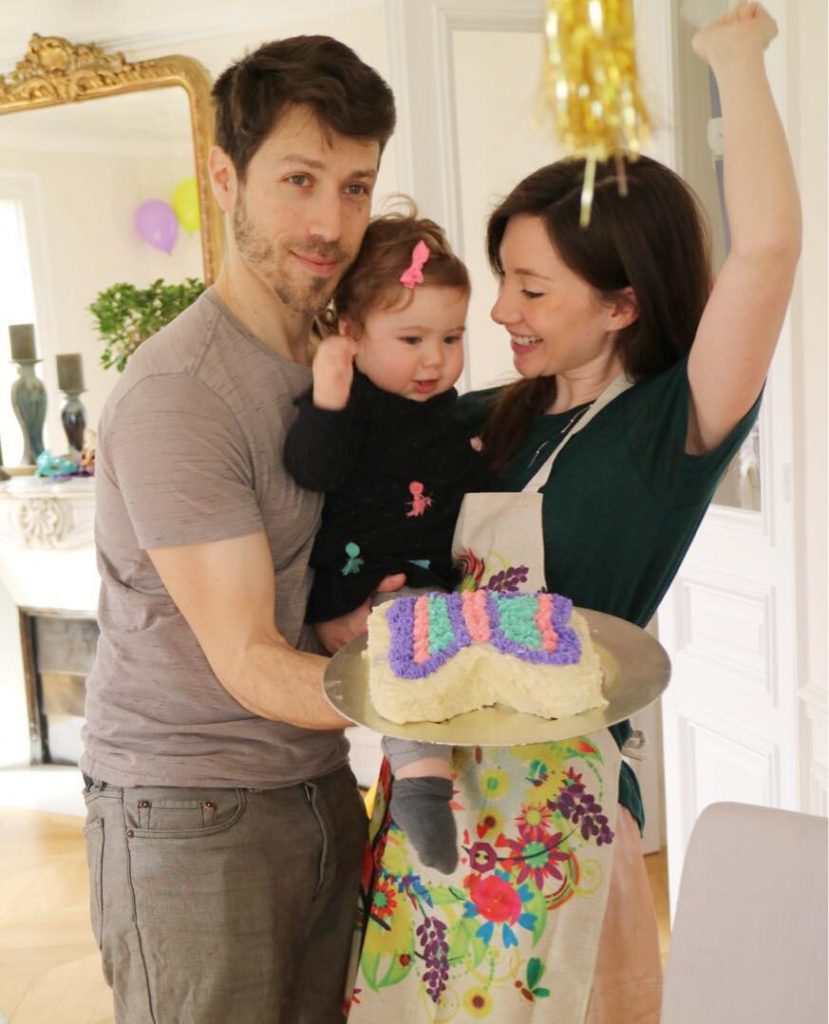 I borrowed decorating tools and focused on minimalism. I decide to bake my cake where all the ingredients go into a bowl before mixing. It's no-fail, not too sweet, absolutely yummy chocolate cake.
Google Translate and I went shopping. With lots of frustrations and many shop visits, I managed to buy all the ingredients plus a hand mixer.
The Parisian flour is softer than our all-purpose, which works fine for cakes. Their higher fat butter is measured in grams not ounces. With a few calculations, I figured out the correct amount. The extra fat was not a problem.
After the baked cake cooled, I coated it with my favorite buttercream frosting. The latter takes a little bit of effort as I first cook the flour with some milk resulting in the best buttercream I've ever eaten, one that I frosted my sons' cakes with when they were growing up!
Here are the recipes for you to try. I've also included one for decorator icing if you're so inclined.
Small Dark Chocolate Cake
This simple recipe is actually the first one I ever used for baking a chocolate cake. I was only 12. Couldn't be much simpler as you add ingredients one at a time to a bowl and mix.
It's so good — rich without being overly sweet — that I always used it as one layer of my sons' birthday cakes.
• 1 egg
• ½ cup cocoa
• ½ cup vegetable oil (not EVOO!)
• 1 ½ cups all-purpose flour
• ½ cup plain (unflavored) yogurt
• 1 tsp. baking soda
• 1 tsp. pure vanilla extract
• 1 cup sugar
• ½ cup water
Preheat oven to 325 degrees F. Grease a 9-inch round baking pan, or muffin cups.
Put ingredients into a large bowl, in the order given. Do not mix until all ingredients are added. Mix well.
Pour into prepared pan.
Bake 30 – 35 minutes for one 9-inch round, 20 – 25 for the cupcakes, or until wooden pick inserted in center comes out clean.
Cool 10 minutes on a rack; remove from pans to wire racks. Cool completely.
Makes one 9-inch layer or about 18 cupcakes.
Best Buttercream Frosting
I generally frost birthday cakes with this  buttercream, one that I had tweaked from an old cake decorating book from the 60s.
3/4 cup milk
1/4 cup all-purpose flour
3/4 cup unsalted butter at room temperature (1 1/2 sticks; 12 tablespoons or 6 ounces) butter
3/4 cup granulated sugar
1 1/2 teaspoons pure vanilla extract
Combine the milk and flour in s small saucepan over medium heat, stirring constantly until the mixture thickens; remove from heat and cool to room temperature.
Using an electric mixer on medium speed, beat together the butter and sugar until the combo is fluffy; add the cooled flour mixture and vanilla and continue to beat at medium speed of a mixer until sugar is dissolved and frosting is very fluffy.
Use to frost cooled cake.
Makes 2 1/4 cups frosting
If you opt to use decorator icing : Using an electric mixture. whip together 1 stick of butter (4 ounces), 1 pound confectioners sugar, 1 teaspoon vanilla, 1/4 teaspoon salt and enough water to make it the stiffness you want.