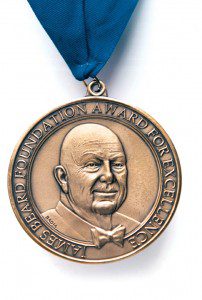 In case you haven't yet heard that the James Beard Foundation has released its list of semifinalists for this year's best chefs and restaurants, her are some of those nominated:
Best New Restaurant
A restaurant opened in the calendar year before the award will be given that already displays excellence in food, beverage and service, and that is likely to make a significant impact in years to come.
The Anchorage, Greenville, SC
Annette, Aurora, CO
The Blue Hen, Rehoboth Beach, DE
Brewery Bhavana, Raleigh, NC
The Charter Oak, St. Helena, CA
ChiKo, Washington, D.C.
Cote, NYC
Del Mar, Washington, D.C.
Empellón Midtown, NYC
Felix Trattoria, Venice, CA
Grand Café, Minneapolis
HaiSous, Chicago
Henrietta Red, Nashville
Honey Road, Burlington, VT
JuneBaby, Seattle
Kemuri Tatsu-ya, Austin
Kismet, Los Angeles
Lady of the House, Detroit
Les Sablons, Cambridge, MA
Maru Sushi, Honolulu
Maydan, Washington, D.C.
Mi Tocaya Antojería, Chicago
Osteria Radici, Allentown, NJ
Saffron, New Orleans
Southern National, Mobile, AL
Vespertine, Culver City, CA
Vicia, St. Louis
Xochi, Houston
Outstanding Chef
A working chef in America whose career has set national industry standards and who has served as an inspiration to other food professionals. Must have been working as a chef for the past five years.
Hugh Acheson, Five & Ten, Athens, GA
Andrew Carmellini, Locanda Verde, NYC
Joanne Chang, Flour Bakery + Cafe, Boston
Ashley Christensen, Poole's Diner, Raleigh, NC
Renee Erickson, Bateau, Seattle
Gabrielle Hamilton, Prune, NYC
Sam Hayward, Fore Street, Portland, ME
Johanne Killeen, Al Forno, Providence
David Kinch, Manresa, Los Gatos, CA
Christopher Kostow, The Restaurant at Meadowood, St. Helena, CA
Mike Lata, The Ordinary, Charleston, SC
Donald Link, Herbsaint, New Orleans
Tony Mantuano, Spiaggia, Chicago
Carrie Nahabedian, Naha, Chicago
Alex Roberts, Restaurant Alma, Minneapolis
Gabriel Rucker, Le Pigeon, Portland, OR
Holly Smith, Cafe Juanita, Kirkland, WA
Vikram Sunderam, Rasika, Washington, D.C.
Fabio Trabocchi, Fiola, Washington, D.C.
Blaine Wetzel, The Willows Inn on Lummi Island, Lummi Island, WA
Outstanding Restaurant
A restaurant in the United States that serves as a national standard bearer of consistent quality and excellence in food, atmosphere and service. Must have been in operation 10 or more consecutive years.
Balthazar, NYC
Bluestem, Kansas City, MO
Canlis, Seattle
Chase's Daily, Belfast, ME
Frankies 457 Spuntino, Brooklyn, NY
Frasca Food and Wine, Boulder, CO
Highlands Bar & Grill, Birmingham, AL
Jaleo, Washington, D.C.
Koi Palace, Daly City, CA
Komi, Washington, D.C.
La Casita Mexicana, Bell, CA
Legume Bistro, Pittsburgh
L'Etoile, Madison, WI
Mama's Fish House, Paia, HI
Momofuku Noodle Bar, NYC
North Pond, Chicago
O Ya, Boston
Quince, San Francisco
Swan Oyster Depot, San Francisco
Talula's Table, Kennett Square, PA
For the remaining nominations, click here