Two dozen of NYC's top women chefs will offer their signature dishes at nonprofit SHARE's annual "A Second Helping of Life" tasting event on Monday, September 18, 6 PM at Pier 60, Chelsea Piers. Celebrity Chef Angie Mar, Executive Chef of Beatrice Inn, will serve as the event's Executive Chef. All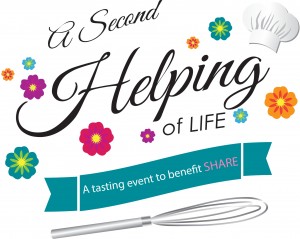 proceeds will benefit SHARE.
Participating chefs will include Food Network favorite Alex Guarnaschelli (Butter), Rebecca Charles (Pearl Oyster Bar), Sarabeth Levine (Sarabeth's), Amanda Cohen (Dirt Candy), Patti Jackson (Delaware and Hudson), Roxanne Spruance (Kingsley's), and many more. See the list below.
The NYC female chef community has been supporting SHARE's mission for 14 years, making A Second Helping of Life one of the top food events in New York City. Accompanying the chefs are female celebrities who serve as sous chefs. Expected to attend are Becky Ann Baker of Girls, Broadway star Kathleen Chalfant, and Sade Baderinwa of ABC News.
"I love being a part of this strong community of women chefs at A Second Helping of Life, and it means a lot to me personally to support SHARE's work for women with breast and ovarian cancer," said Executive Chef Angie Mar.
SHARE currently touches 60,000 lives each year across the United States, providing peer-led support services in English and Spanish and free education from top cancer experts to women with breast and ovarian cancers and their families, including those in underserved communities, in order to bring about better health care, an improved quality of life, and a cure for these diseases.
"It's been a challenging year for many women and their families, especially for women with cancer," said SHARE Executive Director Jackie Reinhard. "A Second Helping of Life is about bringing women together to support one another, acknowledging the power of the SHARE community, and raising money to improve the lives of women with breast and ovarian cancer across the country."
A Second Helping of Life has raised over $5 million for SHARE, enabling SHARE to continue to support people affected by breast and ovarian cancers. Individual tickets are $325, $500 and $750. Tables of 8 and 10 are priced from $5,000 up to $25,000. For information call 212-937-5584 or visit www.sharebenefit.org
PARTICIPATING CHEFS:
Angie Mar, The Beatrice Inn
Alison Awerbuch, Abigail Kirsch Catering
Lynn Bound, Feinstein's/54 Below
Rebecca Charles, Pearl Oyster Bar
Amanda Cohen, Dirt Candy
Leah Cohen, Pig & Khao
Colleen Grapes, Oceana
Alexandra Guarnaschelli, Butter
Patti Jackson, Delaware and Hudson
Sara Jenkins, Porchetta and Porsena
Sarabeth Levine, Sarabeth's
Deborah Racicot, Narcissa
Amy Scherber, Amy's Bread
Barbara Sibley, La Palapa
Roxanne Spruance, Kingsley
Ivy Stark, Dos Caminos
Sue Torres
Jessica Weiss, Maialino
Melba Wilson, Melba's Restaurant
PARTICIPATING CELEBRITIES ACTING AS "SOUS CHEFS":
Becky Ann Baker, Actress
Andrea Berstein, Peabody Award-winning Journalist & Senior Editor, Politcs & Policy, WYNC
Brenda Blackmon, Journalist
Lourdes Castro, Cookbook Author
Kathleen Chalfant, Broadway and Screen Actress
Tandy Cronyn, Actress
Megan Fairchild, Principal Dancer, NYC Ballet
Donna Hanover, Television Journalist & Actress
Magee Hickey, WPIX 11 – TV News Reporter
Jodi Kantor, New York Times Correspondent & Author
Ellie Krieger, Television Personality & Cookbook Author
Lisa-Ann Marchesi, Television Personality & Entrepreneur
Karen Page, Culinary Author
Letty Cottin Pogrebin, Author & Founding Editor of Ms. Magazine
Joanna Pruess, Food & Travel Writer
Teresa Reichlen, Principal Dancer, New York City Ballet
Carol Anne Riddell, Reporter/Host, CUNY TV
Daphne Rubin-Vega, Tony Award-nominated Actress & Singer
Valerie Smaldone, Media Personality
Patty Steele, WCBS-FM
Abigail Thomas, Author
Joyce Wadler, Writer & Humorist
Kirsten Wyatt, Broadway Actress & Singer
About SHARE
SHARE is a nationwide community that brings support, information and the benefit of experience to women of all ages, races, and backgrounds facing breast or ovarian cancer, and their caregivers. Free services include a helpline staffed by peers, support groups, seminars on the treatment of cancer and living with it, and dedicated support from someone who's been there. www.sharecancersupport.org, facebook.com/SHARECancerSupport, Twitter: @SHAREing, Instagram: @sharecancersupport #2ndHelpingSHARE www.sharebenefit.org
Save
Save
Save