SHARE will celebrate its 40th Anniversary at the annual "A Second Helping of Life" tasting event on Monday, September 19, 6 PM at Pier 60, Chelsea Piers with almost 30 of NYC's premier women chefs offering up their signature dishes (scroll down). Chef Angie Mar, Executive Chef of Beatrice Inn and Chopped Grill Masters Grand Champion in 2015, will serve as the event's Executive Chef. All proceeds will benefit SHARE. Tamsen Fadal — PIX 11 Evening News Anchor — will serve as the evening's host.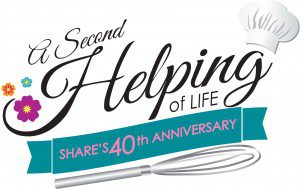 Founded in 1976 by breast specialist Dr. Eugene Thiessen with twelve breast cancer patients and survivors, SHARE currently serves 40,000 people annually with free supportive and educational services in English and Spanish, provided by people who've faced these diseases.
"Today, SHARE's services are more necessary than ever," says Jacqueline Reinhard, SHARE's Executive Director. "Faced with ever more complex choices and challenges, patients need support from others who have been there — to get information available only from other patients and survivors, to learn to partner with their doctors, and to make informed decisions about their care."
The NYC female chef community continues to support SHARE's mission, and for the 13th year, will be participating in this NYC event. Accompanying the chefs are about two dozen (scroll down) female celebrities who serve as sous chefs.
A Second Helping of Life has raised over $4.5 million for SHARE, enabling this organization to continue to support people affected by breast and ovarian cancers.
PARTICIPATING CHEFS:
Angie Mar, The Beatrice Inn
Einat Admony, Balaboosta,
Bar Bolonat, Taim
Alison Awerbuch, Abigail Kirsch Catering
Lynn Bound, 54 Below
Rebecca Charles, Pearl Oyster Bar
Daphne Cheng, Mother of Pearl
Amanda Cohen, Dirt Candy
Leah Cohen, Pig & Khao
Rebecca DeAngelis, Babbo
Lauren DeSteno, Marea
Colleen Grapes, Oceana
Alexandra Guarnaschelli, Butter
Rebecca Isbell, Betony
Patti Jackson, Delaware and Hudson
Sara Jenkins, Porchetta, and Porsena
Sarabeth Levine, Sarabeth's
Anita Lo, Annisa
Sawako Okochi, Shalom Japan
Deborah Racicot, Narcissa
Lauren Resler, Empellón Cocina, Empellón
Missy Robbins, Lilia
Amy Scherber, Amy's Bread
Barbara Sibley, La Palapa
Roxanne Spruance, Kingsley
Sue Torres
Jessica Weiss, Maialino
Melba Wilson, Melba's Restaurant
PARTICIPATING CELEBRITIES ACTING AS "SOUS CHEFS":
Becky Ann Baker, Actress
Brenda Blackmon, Journalist
Blair Brown, Actress
Lourdes Castro, Cookbook author
Kathleen Chalfant, Broadway and screen actress
Tandy Cronyn, Actress
Megan Fairchild, Principal Dancer, NYC Ballet
Donna Hanover, Television Journalist and Actress
Jessica Hecht, Broadway and Screen Actress
Magee Hickey, WPIX 11 – TV news reporter
Kat Kinsman, author and editor-in-chief of Tasting Table
Ellie Krieger, Television personality and cookbook author
Lisa-Ann Marchesi, Television Personality and Entrepreneur
Marin Mazzie, Actress and Singer
Karen Page, Culinary author
Letty Cottin Pogrebin, Author and founding editor of Ms. Magazine
Joanna Pruess, Food and travel writer
Ruth Reichl, Chef and Food Writer
Teresa Reichlen, Principal Dancer, NYC Ballet
Carol Anne Riddell, Reporter/Host, CUNY TV
Daphne Rubin-Vega, Tony Award-nominated actress and singer
Abigail Thomas, Author
Joyce Wadler, Writer and Humorist
Individual tickets are $325, $500 and $750. Tables of 8 and 10 are priced from $5,000 up to $25,000. For information call 212-937-5584 or visit www.sharebenefit.org
SHARE is a nationwide community that brings support, information and the benefit of experience to women of all ages, races, and backgrounds facing breast or ovarian cancer, and their caregivers. Free services include a helpline staffed by peers, support groups, seminars on the treatment of cancer and living with it, and dedicated support from someone who's been there.