Twenty-eight of NYC's top women chefs cook their signature dishes for "A Second Helping of Life" to benefit SHARE's work to fight breast and ovarian cancers. This event will be held on Monday, September 21, 6 PM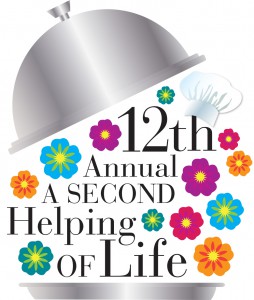 at Pier 60, Chelsea Piers.
This year's roster includes Food Network favorite Alex Guarnaschelli (Butter), Anita Lo (Annisa), Rebecca Charles (Pearl Oyster Bar), Chopped Grill Masters Grand Champion Angie Mar (The Beatrice Inn), Amanda Cohen (Dirt Candy), Patti Jackson (Delaware and Hudson), and many more. Breast cancer survivor Pat Battle — co-anchor NBC4's "Weekend Today in New York" — will serve as host. Over two dozen female celebrities will serve as sous chefs.
"Women of all ages, ethnicities, and backgrounds get breast and ovarian cancers," says Jacqueline Reinhard, SHARE's Executive Director. "When it comes to diagnosis, the disease doesn't discriminate. And SHARE exists to help everyone with crucial support, life-saving information, and guidance that suits the needs of each woman."
PARTICIPATING CHEFS:
Alexandra Guarnaschelli, Butter
Amy Scherber, Amy's Bread
Rebecca Charles, Pearl Oyster Bar
Anita Lo, Annisa
Abigail Kirsch and Alison Awerbuch, Abigail Kirsch Catering
Barbara Sibley, La Palapa
Alex Raij, Txikito, El Quinto Pino, La Vara
Amanda Cohen, Dirt Candy
Angie Mar, The Beatrice Inn
Sawako Okochi, Shalom Japan
Zahra Tangorra, Brucie
Janine Booth, Root & Bone
Leah Cohen, Pig & Khao
Lauren DeSteno, Marea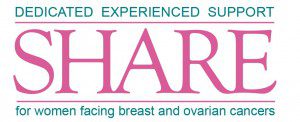 Sue Torres, Sagrada
Colleen Grapes, Oceana
Sarabeth Levine, Sarabeth's
Allison Robicelli, Robicelli's
Patti Jackson, Delaware and Hudson
Jessica Weiss, Maialino
Rebecca Isbell, Betony
Lauren Resler, Empellón Cocina, Empellón Taqueria, & Empellón Al Pastor
Lynn Bound, 54 Below
Amanda Cook, Cookshop
Christine Lau, Bar Chuko Izakaya
Roxanne Spruance, Kingsley
Deborah Racicot, Narcissa
Sara Jenkins, Porchetta, and Porsena
PARTICIPATING CELEBRITIES ACTING AS "SOUS CHEFS":
Sade Baderinwa, Anchor, WABC-TV Eyewitness News
Andrea Bernstein, Peabody Award-Winning Journalist
Brenda Blackmon, Journalist
Lourdes Castro, Cookbook author
Kathleen Chalfant, Broadway and screen actress
Tamsen Fadal, PIX11 Anchor
Megan Fairchild, Principal Dancer, NYC Ballet, Broadway Actress
Sara Gore, co-host, NY Live
Kitty Greenwald, Wall Street Journal food columnist and cookbook author
Jessica Hecht, Broadway and Screen Actress
Magee Hickey, WPIX 11 – TV news reporter
Jodi Kantor, New York Times correspondent and author
Kat Kinsman, author and editor-in-chief of Tasting Table
Ellie Krieger, Television personality and cookbook author
Sara Moulton, Chef, Cookbook Author, and Television Personality
Karen Page, Culinary author
Letty Cottin Pogrebin, Author and founding editor of Ms. Magazine
Joanna Pruess, Food and travel writer
Teresa Reichlen, Principal Dancer, NYC Ballet
Carol Anne Riddell, Reporter/Host, CUNY TV
Daphne Rubin-Vega, Tony Award-nominated actress and singer
Valerie Smaldone, Radio host and producer
Linda Stasi, Journalist and author
Abigail Thomas, Author
Julia Turshen, Writer and Cookbook Author
Joyce Wadler, Writer and Humorist
Chely Wright, Country Music Artist and Activist
BEVERAGE SPONSORS:
LUPEC and Speed Rack (Lynnette Marrero & Meaghan Dorman)
Anna de Codorníu
Fever Tree Mixers
Delicato Family Vineyards/Handcraft Wines
Icelandic Glacial
Javazen
QW Wine Experts
SolStars, Inc.
ZYR Vodka
Banfi Vintners / Little Black Dress Wines
Palm Bay International
T-Salon
Bodegas Taron
Monika Caha Selections
Julie Reiner and Ivy Mix, Leyenda, Clover Club
Shiner Beer
The Dead Rabbit Grocery & Grog /Jillian Vose
Daily Greens
Goose Island Brewing Company
Proemio Wines
Finca Sophenia
Individual tickets are $325, $500 and $750. Tables of 8 and 10 are priced from $5,000 up to $25,000. For information call 212-937-5581 or visit www.sharebenefit.org

SHARE is a nationwide community that brings support, information and the benefit of experience to women of all ages, races, and backgrounds facing breast or ovarian cancer, and their caregivers. Free services include a helpline staffed by peers, support groups, seminars on the treatment of cancer and living with it, and dedicated support from someone who's been there.