More than two dozen of NYC's top female chefs will serve savory and sweet dishes at the Tenth Anniversary "A Second Helping of Life" benefit on Monday, September 23, 6 p.m., at Pier 60 at Chelsea Piers.
Chef Amanda Freitag of Food Network's "Chopped" and Cooking Channel's series "Unique Eats"

will serve as Executive Chef and author and restaurant critic Ruth Reichl (will serve as host at this fundraiser to support SHARE, a non-profit organization that offers free peer support to women with breast or ovarian cancer, their families and friends. Activities include a tasting reception and live and silent auctions.
A Second Helping of Life is an annual fall event in New York City, with top chefs and local celebrities marking their calendars to attend every year. Top Chef Master competitor Anita Lo of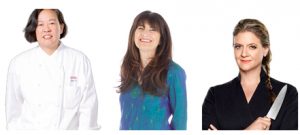 Annisa helped to create the event ten years ago and has participated every year, as has Chef Rebecca Charles of Pearl Oyster Bar. Charles serves her signature lobster roll every year, and has jokingly said that any time she's suggested serving something else, the response has been "one of horror." Newer additions to the participating chefs list include hot chefs Amanda Cohen of Dirt Candy and The Waverly Inn's Ashley Merriman.
"It's the best food in New York – cooked, made and invented by women," said award-winning actress Kathleen Chalfant, who has participated as a sous chef from the beginning. The event has raised over $3 million for SHARE, enabling this organization to continue to support those affected by breast or ovarian cancer.
Participating Chefs:
Anita Lo, Annisa
Rebecca Charles, Pearl Oyster Bar
Alexandra Guarnaschelli, The Darby & Butter Restaurant
Amy Scherber, Amy's Bread
Alison Awerbuch, Abigail Kirsch Catering & Events
Einat Admony, Balaboosta & Taïm
Heather Bertinetti, The Four Seasons
Lynn Bound, Café 2 & Terrace 5 (MoMa)
Amanda Cohen, Dirt Candy
Ariane Daguin, D'Artagnan
Colleen Grapes, The Harrison & The Red Cat
Gabrielle Hamilton, Prune
Sara Jenkins, Porchetta & Porsena
Elizabeth Karmel, Hill Country
Meredith Kurtzman, Otto
Sarabeth Levine, Sarabeth's
Shuna Lydon, Peels
Ashley Merriman, The Waverly Inn
Alexandra Raij, Txikito, El Quinto Piño and La Vara
Alexandra Ray, North End Grill
Sunchar Raymond, Union Square Café
Rosa Ross, Scrimshaw
Barbara Sibley, La Palapa
Ivy Stark, Dos Caminos
Julie Taras Wallach, Tipsy Parson
Participating Celebrity Sous Chefs:
Sade Baderinwa, WABC-TV Channel 7 News Anchor
Becky Ann Baker, Actress
Brenda Blackmon, WWOR My9 News Anchor
Hannah Bronfman, Entrepreneur
Lourdes Castro, Author, Latin Grilling
Kathleen Chalfant, Actress
Letty Cottin Pogrebin, Author
Tandy Cronyn, Actress
Elizabeth Falkner, Chef, Author
Rozanne Gold, Food Writer, Chef & Journalist
Kitty Greenwald, Author, Wall Street Journal Columnist
Donna Hanover, Broadcast Personality
Jessica Hecht, Actress
Cindy Hsu, CBS 2 News Reporter
Jodi Kantor, Author, The Obamas
Rikki Klieman, TV Personality
Ellie Krieger, Chef/Host, Food Network's "Healthy Appetite"
Daisy Martinez, Chef & TV Personality
Alex McCord, The Real Housewives of New York City
Sara Moulton, Chef, Cook Book Author, TV Personality
Karen Page, Food and Wine Columnist, Author, The Flavor Bible
Joanna Pruess, Author, Cast Iron Cookbook
Daphne Rubin-Vega, Actress, Performer
Carole Shelley, Actress;
Valerie Smaldone, Media Personality
Linda Stasi, Author, New York Post Columnist.
Chely Wright, Country Music Artist
Individual tickets are $300, $500 and $750. Tables of 8 and 10 are priced from $5,000 up to $35,000. For information call 212-937-5581 or visit www.sharebenefit.org