Having had fabulous tapas at Handshake Hospitality's Lamono next door, I knew I'd like the food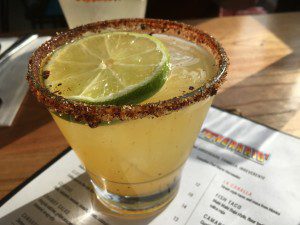 at Temerario.
While looking over the menu I ordered a smoky jalapeño margarita ($8 during happy hour; $12 regularly with a pitcher $70) with a spiced sugar, salt and chili pepper rim that's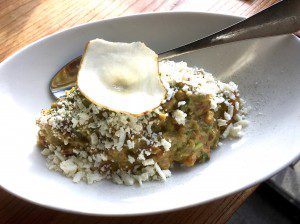 not to be missed, nor is the the guacamole rojo with diced tomatoes, chopped cilantro and chipotle peppers covered in queso fresco all served with crisp tostadas ($12 for dinner, $9 during happy hour).
If you've ever eaten the traditional corn on the cob (elote) covered with mayonnaise, cotija cheese and cayenne pepper, you know how delicious, but messy (and stuck in your teeth) it can be when dining. I was thrilled with their esquites – a glass layered with that shaved corn with epazote, serrano chile and lime mayonnaise topped with fresh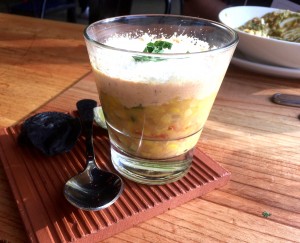 queso cotija ($13), with a similar flavor but oh, so much easier to eat.
The camarones enchilpayados (chilled shrimp with a chilpaya aioli) came beautifully presented with slice radishes and amaranth tostadas. For those who like chilled shrimp with mayo.
What's not to be missed — if a special that day — is the grilled octopus mole with grilled carrots –  ($26). The octopus is tender (not chewy), and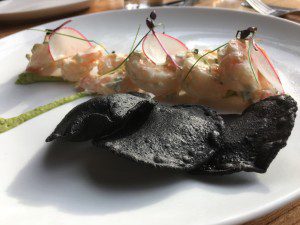 grilled to perfection.  Also great is the pescado ala veracruzana ($28) — steamed snapper, over a melange of tomatoes and olives along with perfectly cooked potatoes and roasted garlic…sitting in a rich broth.
Desserts include those fried pieces of dough called churros, these served with a tamarind chile ganache ($10) and a pan de nata ($12) vanilla cake with goat's milk caramel, lemon mousse and meringue. What I'd also suggest for ending your meal is the Dulce Vida Anejo ($16) or one of the extensive selection of tequilas and mezcals to have with or as dessert!
Temerario takes the time and attention to detail plating their food as they do to cooking. This Mexican place is worth a special trip to Chelsea!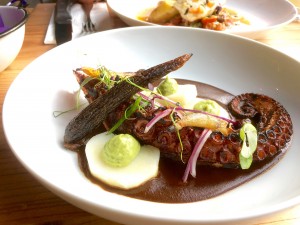 – bonnie
BonnieBOTB
Follow @BonnieBOTB

Temerario
Chelsea
198 8th Avenue at 20th Street
(212) 645-2100
www.temerarionyc.com