Stopped by Tavern 29, a cozy sports bar just off Park Avenue in the Murray Hill area for brunch after a snow storm. Serve was painfully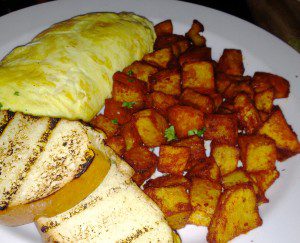 slow because much of their help couldn't get in because of the snow. But once we got the first of our bottomless drinks, we happily awaited our meal. At least the kitchen staff was there.
Tavern 29's Saturday and Sunday brunch menu includes $25 for any brunch item and unlimited cocktails that includes bloody Mary's (my choice), mimosa, bellini or Prosecco (my dining partner's choice)
I selected a Tavern omelet, stuffed with tomato, avocado, red pepper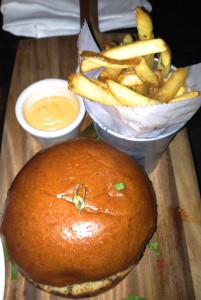 and chevre along with crisp, highly seasoned potato chunks (their version of home fries) and grilled sliced brioche.  My friend had the wooden plank-presented perfectly cooked turkey burger topped with lettuce, tomato and onions and served with a just spicy enough chipotle aioli and some ketchup for the fries.
I'd recommend for a leisurely brunch. In nicer weather consider their rooftop beer garden!
Tavern 29
47 E. 29th Street
New York, NY 10016
(212) 685-4422
http://tavern29.com/