Last time I was in the mood for nachos, we had found ravings about Taqueria Diana's on the web. We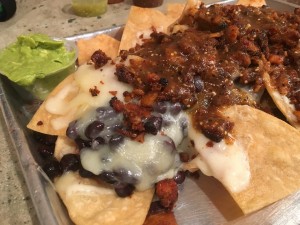 ended up down the street (not a place I'd recommend) as we wanted to sit, yak and enjoy some libations and Taqueria Diana is not for that. It's a very tiny storefront Mexican restaurant on Second Avenue that serves mainly take out with a couple of tall stools and teeny counter top nestled in the back between the kitchen and the service area.
This time, I opted for one of those stools, ordering the al pastor nachos with it spit roasted pork, cheese, black beans and fresh chips ($9.87) with a side of guacamole ($1.38). The chips are covered the pork scrapped from the spit, the cheese and beans, tossed under the broiler then moved to a metal trays for service. The guac is served in a small plastic cup. Don't plan to return, as it was quite warm sitting there in the back. The nachos though are good enough to recommend … for take out.
I'll have to try their sister Hell's Kitchen place that has seating and a liquor license!
-bonnie
Taqueria Diana
East Village
129 Second Avenue
New York, NY 10003
(646) 422-7871