Taqueria del Barrio, a modern Mexican eatery, opened the Petworth area of DC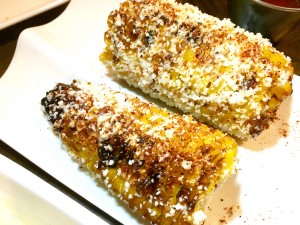 in late March after a successful run as both a DC food truck and stall at Union Market. On a recent trip to the city, I was invited to sample its Latin American fare. The menu offers flavors from Mexico and chef-owner Anna Bran-Leis's native Guatemala.
I wished I had I tripped over Tom Sietsema's lackluster review of all the food other than the empanadas before dining, as oddly neither the publicist who set up my tasting nor our server suggested the filled pastry turnovers he was enthused about. What I'd rave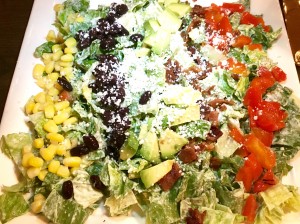 about is Taqueria del Barrio's corn and their hand-pressed corn tortillas for the tacos (each $3) that come in 14 varieties.
We began with the restaurant's namesake margarita with smoky Silencio Mezcal, caramelized pineapple and habañero-turmeric syrup, served in a chili seasoned rim ($13). Fine for those who can't tolerate alcohol as these drinks were mighty weak.
With that, we had the best street-food version of elote that I've experienced outside of Mexico. That's char-roasted fresh corn brushed with a chili-lime aioli and cotija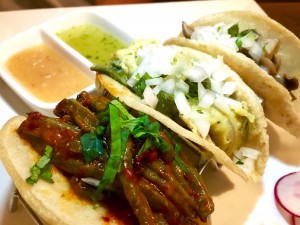 cheese ($3.99). Worth the trip alone. The queso fundito made from Mexican beer, Oaxaca and Chihuahua cheeses ($8.99) was fine, as was the guacamole ($6.99).
The Mexican Cobb (sans chicken) salad offers rows of colorful avocado, bacon, Oaxaca cheese, roasted red peppers, black beans and corn over chopped iceberg lettuce ($9.99) in a light dressing. A nice light dish.
I tried the chicken mole (recommended by the publicist), with a nuanced sauce covering overcooked pieces of chicken breast, served with rice and black beans. What I'd recommend instead are the $3 tacos in fresh tortillas. Don't miss the rajas with sauteed onions & pepper and egg.
– bonnie
Follow @biteofthebest
BonnieBOTB
Follow @BonnieBOTB
Taqueria del Barrio
821 Upshur St NW,
Washington, DC 20011
(202) 723-0200
taqueriadelbarrio.com