It was a New York adventure getting to Tanoreen for lunch to try the food of the Palestinian-American chef-owner Rawia Bishara, who was a James Beard Foundation nominee for Best Chef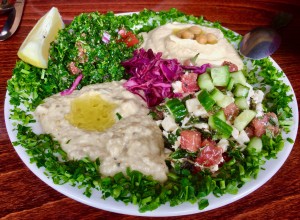 NYC this year.  My friend had read raves about the place so we made the trek.
We met at the Pier 11 ferry (same pier that has the IKEA ferry), sat on the upper deck while we sailed the East River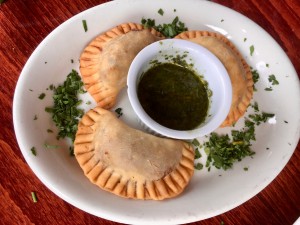 to Bay Ridge then walked the mile to the restaurant on the corner of 76th and Third Avenue.
We were the first in the restaurant, having time to peruse the menu before ordering. We started with a combo meze plate  ($20) of four cold apps (we had to beg to have the tabouleh included). Their baba ghanouge of grilled eggplant pureed with tahini, lemon and garlic was fine, although not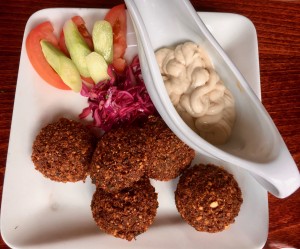 smoky at all. The creamy chickpea puree (hummus) was a bit too runny, probably from the excess of lemon juice. I liked that, my dining partner did not. The tabouleh was okay, overflowing with parsley and mint, with very little bulgur. Other than the za'atar sprinkled over it, the cheese salad is a classic refreshing Greek one with feta, tomato and cucumber.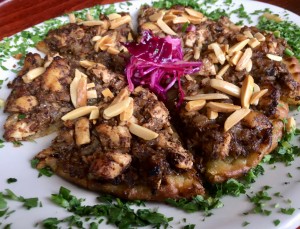 Along with that, they served us pickled veggies and a bread basket with not-so-crisp crackers (could they have been leftover from the night before?) and pita bread that had not been warmed.
We also ordered the sambosek ($8), three crisp pockets (Think empanadas) filled with spiced lamb, served with a fresh cilantro-basil sauce. With the small order of falafel ($8 for five), we requested — and were served — warm pita that we used to wrap the fried chickpeas and tahini.
If you do go, do order the house made flatbread musakhan ($14) topped with shredded well-seasoned chicken, caramelized onions and roasted almonds.
Was a fun outing, but not worth going out of your way to make the trip. If, though, you find yourself in Bay Ridge, I'd recommend stopping by.
– bonnie
BonnieBOTB
Follow @BonnieBOTB

Tanoreen
Bay Ridge
7523 3rd Avenue
Brooklyn, NY 11220
(718) 748-5600
Save