While in Miami Beach for the South Beach food and wine festival (#SOBEWFF), I stayed at the Thomson Miami Beach and was invited to sample their new restaurant Talde operated by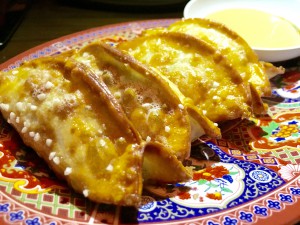 the same team that has Talde Brooklyn, Talde Jersey City, Thistle Hill Tavern, and Pork Slope. Lucky us, creative chef Dale Talde was in house that day.
I liked this high-energy tavern-like restaurant with innovative twists on Asian food so much better than my Brooklyn experience. I'd suggest starting with the not-too-sweet plum basil margarita, made with house-made plum-basil syrup, El Jimador silver and Triple Sec, garnished with Thai basil ($12).
Do try the nod to the NYC pretzel and mustard combo  — a pretzel pork and chive dumplings with a sinus-clearing spicy Chinese mustard mixed
with tahini (4 for $10). The restaurant first boils the wonton wrapper in a baking soda-solution, then pan sears them until crispy, sprinkles with pretzel salt and fills!
Although the menu described the dish as Vietnamese garlic shrimp, this was a refreshing salad with chopped peanut sprinkled over pomelo supremes (Japanese grapefruit), escarole, cellophane noodles and five jumbo grilled shrimp first brushed with nuoc mam (fish sauce) reduction. It is not to be missed.
Joel — our amazingly knowledgeable waiter — said that the Kung Pao chicken wings were named the best wings in the country by Food & Wine magazine. How could we resist? We sampled a small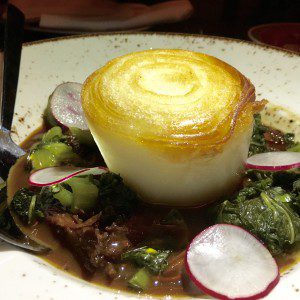 (6 wings, $11) order that arrived sprinkled with spicy chopped peanuts and dried Thai chilies with a side of house-made buttermilk ranch to cool the palate. These sticky spicy sweet wings that were first marinated overnight in kimchi yogurt, then battered in rice flour and double fried were a tad too fried for my tastes.
Chef Dale Talde described how he created our favorite dish of the evening — the chow fun.  He said that traditionally this dish is texturally monotonous; after the first bite, he loses interest. So he decided to treat the noodle like it is a steak, being the main event with everything else a condiment.
To do so, he first makes those wide rice noodles in house, rolls them into a pinwheel and pan sears that to make it crispy on top and bottom but still soft inside. The crisped noodle is served in a tender pulled pork shank braise (that's been cooked for 6 hours) with picked mustard greens all topped with sliced radishes. We let our server Joel gave cut  and mix it  for us. This amazingly rich and texturally unusually chow fun is not to be missed.
What is to be missed are the deep-fried Brussels sprouts tossed in an Asian sambal ($11) as they were way too greasy to enjoy.
But don't miss a visit Talde.
– bonnie
BonnieBOTB
Follow @BonnieBOTB

Talde
Miami Beach
4041 Collins Avenue
Miami, FL 33140
(786) 605-1094