Arturo and Suzette Franco-Camache have done it again. That incredibly creative restaurateur team who changed the New Haven dining scene in the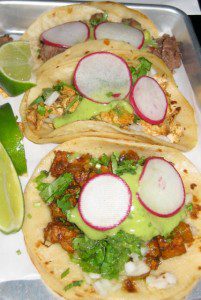 late 90s when they opened Roomba the Nueuvo-Latino downstairs restaurant in Shubert Alley, hit their mark with their new side-by-side duet of restaurants in Branford.
(Yes, that team also owned New Haven's Bespoke, and Branford's The Suburban.)
Franco (as Arturo's friends call him) was born and raised in Mexico beginning his skills helping his mom. Tacuba Taco Bar includes the food influenced by his youth:  Mexican street food with a Latin influence.
While waiting for a table at Tacuba, you can have a drink at their second place, right next door.  Swill Wine Bar (1205 Main St.,  203-208-0423) features a full bar, a value-priced wine list and small plates to curb your appetite as you wait.
I started with a Margarita (Tres Generales Silver blanco tequila, cointreau, lime salt; $14) as I knew the rest of my meal would be from south of the border and just wished they offered chips and guacamole to accompany it. Instead their small menu includes sandwiches, salads, cheeses, charcuterie and sweets. I'll try those another time.
Once we got our table, we began with their classic Lobster Arepa ($11), a sweet corn cake with lobster, avocado and Mexican creme — itself worth the visit.  Next we enjoyed a trio of tacos ($4 each or 3 for $11):  Carne Asada (grilled adobe marinated skirt steak), Pollo Asaso (adobe-marinated roasted chicken) and Al Pastor (tender achiote Pork, pineapple, grilled onions) and a tender Duo Ceviche of the day ($16).
I was too full to sample more and so must go back and do so! I recommend you do the same.
– bonnie
Tacuba Taco Bar
1209 Main Street
Branford, CT
203-481-1414
www.tacubataco.com