My friend suggested we get a bite at Tacombi at Fonda Nolita, an authentic taqueria set up in the middle of a concrete garage with lights strung as if you were outside. The chefs serve the food from a topless VW mini-van that until it moved to Elizabeth Street was a taco stand in Playa del Carmen, just sout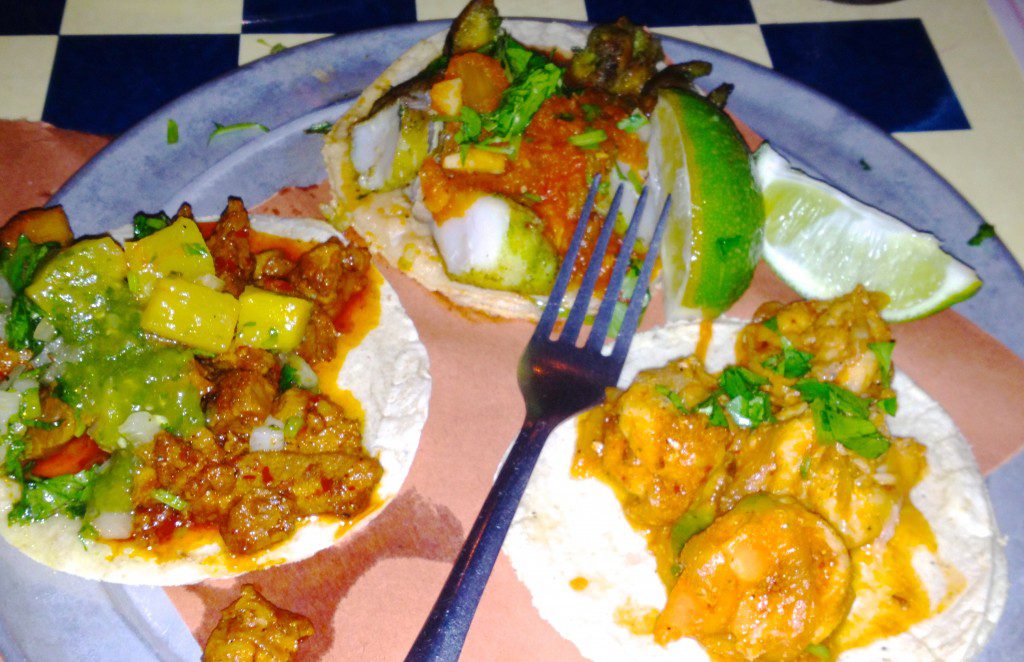 h of Cancún.
The menu at Tacombi includes a some apps, a few tostadas, quesadillas, huevos (eggs) and — their specialty — tacos on freshly ground, soft, corn tortillas.  I skipped the beer and Mexican wines, an opted for their light and refreshing sangria, made with watermelon juice and very little wine ($8.27)!
We started with a small order of guacamole con totopos ($7.35) —  guacamole with fresh chips —  as we tried to decide which tacos to order.
We tried the Al Pastor de Puerco ($4.14), spicy pork tacos with diced avocado; Seared Veracruzana Fish ($4.14) and — the only one I wouldn't re-order as the shrimp were so overcooked they were inedible — Shrimp a la Diabla ($5.51). I suggest you also sample the freshly cooked rice with earthy black beans ($2.67, small).
Tacombi is a quirky fun place that won't break the bank. Give it a try.
Tacombi at Fonda Nolita
267 Elizabeth St
New York, NY 10012
(917) 727-0179
tacombi.com