If you're looking for a place to dine when you're at the theatre, try Taboon on Tenth Avenue. Taboon's offerings are cooked fresh in its eponymous dome-shaped, wood-fired Middle Eastern oven. That includes the piping hot focaccia bread ($5), brushed with olive oil and sprinkled with rosemary, sage and fleur de sel and drizzled with olive oil – it's so good
it's almost reason enough to go there.
That and the dips.
There's hummus, tzaziki topped with za'atar, taramosalata, baba ghanoush topped with pine nuts, feta mixed with puréed peppers topped with sumac and house marinated mixed olives (three for $14). My next visit I'll just order order all six of these, as they're all that good, especially the smoky baba ghanoush made from the meat of a roasted eggplant combined with yogurt.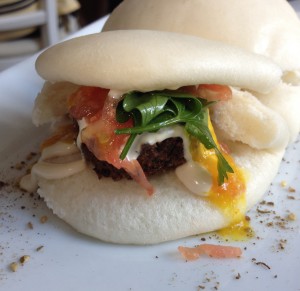 Since I was their guest, I sampled lots of their meze offerings. The fresh herbed feta zucchini patties ($14) are served atop a sumac yogurt sauce and garnished with a lemon surpreme. The shrimp ($16) arrives sizzling in a cast-iron pot, swimming in lemony-garlic olive oil. The harissa and paprika spiced red falafel come with shishito peppers and a tzaziki dipping sauce ($15). Don't miss the four falafel in two soft spongy sticky buns ($11) with crushed tomato, tahini and amba, a tangy mango pickle condiment. A wonderful amalgam of flavors.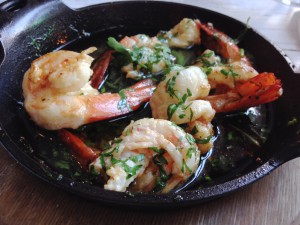 Although it sounded delish, the seafood special ($36) with a filet of pan-seared striped bass topped with an overcooked zucchini & potato pancake, sautéed Jerusalem artichokes with olives, cipollini onions and fire roasted peppers on a sorrel yogurt sauce was forgettable. The ground lamb meatball kebabs spectacularly arrive in a large terra-cotta vessel topped with a flatbread crust, but the container seemed way too big for the tahini, pine nuts, charred onions, tomatoes and lamb meatballs ($38). Both of these pricey entrees were forgettable. I'd stick to appetizers, leaving room for the amazing desserts.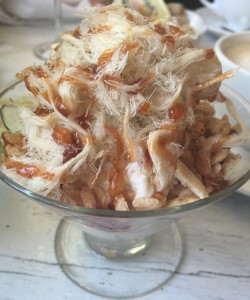 Don't miss the unusually irresistible Silan ($12), sort of a Mediterranean sundae. This housemade vanilla ice cream sprinkled with tahini, caramelized pistachios and date honey is topped with shredded halva. The crunchy and savory mixture with a cotton candy texture from the shredded halva is addictingly good. Also worth the visit is Efi's warm flourless Valrhona dark chocolate cake ($14). The molten cake that oozes when cut works well with the tahini gelato with dried prunes that had been soaked in Cognac, the milk chocolate finger crisp and passion fruit caramel.
– bonnie
Follow @BonnieBOTB

Taboon
Hell's Kitchen
773 10th Ave (between 52/53)
New York, NY 10019
(212) 713-0271