This Hell's Kitchen eatery serves traditional, plentiful Mexican fare. Good for a quick bite before theatre, which is what I did on my way to seeing the amazing Douglas Hodge as Cyrano de Bergerac at the American Airlines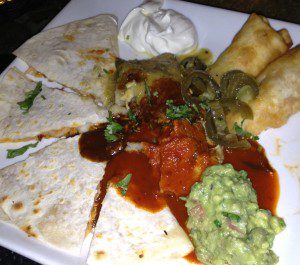 Theatre.
We shared one app and one entree, which was more than enough food for two. First, the Aperitivo mixto ($12) with a mini chimichanga, a quesadilla,  tamal,  guacamole,  sour cream, some jalapeno peppers and an assortment of sauces (mole, green, red sauces).  Note to self: no need for any more food if you order this again.
But we also ordered Chipotle BBQ ribs ($16), with  slow-roasted b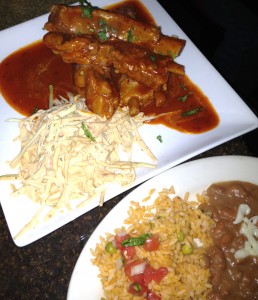 aby back ribs slathered in chipotle barbeque sauce and served with Mexican slaw, rice and beans.
A decent choice that won't break the bank.
– bonnie