The newest Sushi Seki restaurant recently opened in Hell's kitchen in the former Firebird location. I was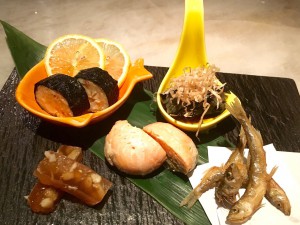 invited to stop by for a meal recently before I headed to see the hottest ticket on Broadway – the rap musical Hamilton — up the street while Lin-Manuel Miranda was still performing.
They seated me at the five-seat Kappo/Chef's counter to sample Chef Seki's innovative cuisine for a tasting menu. I learned that Kap= cut fish and Po= steamed or cooked in Japanese. Instead of the regular 7-course tasting menu ($100) along with wine/sake pairings ($60), we were served offerings from the pre-theatre menu plus a sake selected for each course.
Our first course with fin in natural jelly, salmon kenchin mushi, braised eggplants cooked in dashi with soy and ginger and deep-fried smelt. Paired with that was Kubota "30th Anniversary," Junmai Daiginijo from Niigata.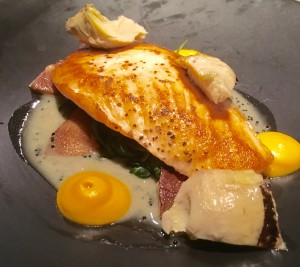 Next we had the rich butternut squash soup with pureed cauliflower, peppers, carrots and zucchini, topped with a crisp slice of lotus root paired with Kikuhime Kinken "Golden Sword," Junmai from Ishikawa.
With the snow peas in an onion-soy dressing topped with bonito flakes, they served Cremant Du Jura, Vallery Tissot, Jura France NV.
My guest had the assorted raw fish (yellow tail, Spanish mackerel) over sushi rice with Narutotai Yamahai "Black" Junmai Ginjo Genshu from Tokushima; I had the grilled salmon with spinach, artichokes, squash, shiitake mushrooms topped with a flying fish roe beurre blanc Dassai 23 "Centrifuge" Junmai Daiginjo Nama from Yamaguchi. I'd recommend both.
Next was a wonderfully unusual Japanese egg custard (Chawanmushi) served with chicken, shrimp, shiitake, bamboo shoots all topped with cilantro, served with Harada "Muroka Nama Genshu," Junmai Ginjo from Yamaguchi. Be sure to try that.
My next course was the crispy sawara, tender mackerel with Tomio "Undiluted," Junmai Daiginjo from Kyoto. My guest a blue fin akami with tofu sauce, marinated king salmon belly with ikur, and red snapper with sea salt and yuzu served with Tsukinokatsura "Iwai," Junmai from Kyoto.
For oysters we tried a Kumamoto oyster with kaboshu citrus & myoga ginger sauce; Montauk pearl with ponzu & scallion sauce and Blue Point with spicy bell pepper sauce served with Oze "Extra Dry," Junmai from Gunma.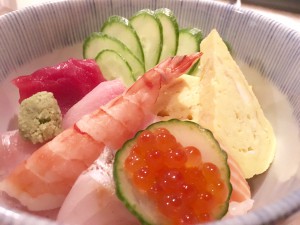 Our desserts — before we ran out the door for the 7 pm curtain — included a plate with a panna cotta, mochi ice cream and some dried fruit paired with a sweet (but not too so) sake: : Aragoshi Kumi Plum, Awamori from Okinawa.
I'd recommend a stop at Sushi Seki when you're not rushed, so that you can savor their seasonal selection of cooked and raw seafood delicacies crafted into a culinary experience at the Kappo counter.
– bonnie
Sushi Seki
Hell's Kitchen
365 West 46th Street
New York, NY 10036
(212) 262-8880
Save